Eat your heart out: what you need to know when choosing a wedding cake
"The wedding cake is a focal point, a highlight, for the bridal couple, but to be an effective part of the greater visual of the day, its decoration is as important as the venue." It may sound like a strong sentiment but Wade van der Merwe knows cake. And it's hard to disagree with him once you've seen what he can do. He is king of the fondant fold, master of the chocolate swirl, a veritable warrior fighting for beautiful baked creations to be in their rightful place as a central feature on every wedding day.
His popular company, Wade's Cakes, is an institution in wedding planning circles, renowned for their ability to bring the most delicately detailed and elaborate cake constructions to life. Here's what Wade had to say about the wedding cake business and why a tower of sponge, fondant and spun sugar is the making of a sweet celebration.
What are the current trends in wedding cake choices?
"At the moment the most popular cake styles are fondant covered cakes, then butter icing, naked cakes and chocolate design cakes."
Do you find that people are veering away from traditional wedding cakes in favour of dessert tables, tiered cupcakes, cheese wheel cakes and candy bars?
"Not really, traditional big wedding cakes seem to still be the most popular choice. We do have orders for other options but it is usually for gifting or dessert options."
What should a couple consider when choosing a cake for their big day?
"The final look of the cake will depend on their mood board, which includes their colours and personal style. When looking around for designs, couples should not just look for cakes that incorporate their colours as we can adjust any design to bring in their theme.
For the filling of the cake, if used for dessert, couples would need to choose something that would appeal to the majority of their guests. If served for coffee or part of the dessert, it's best to take into consideration what the dessert on the wedding menu is."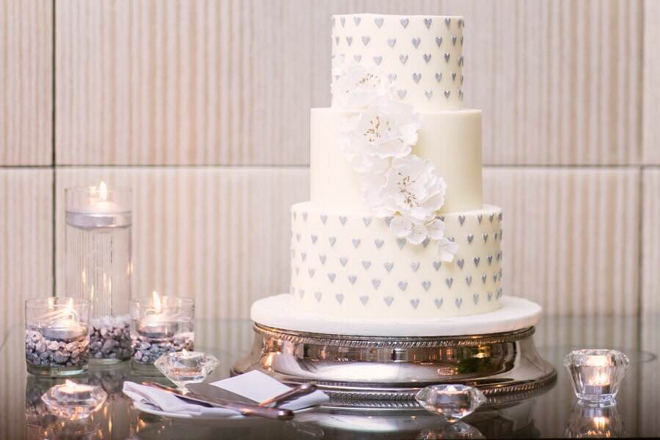 If a couple brings you a specific cake design, how do you go about bringing it to life?
"We can adjust the design to suit them, matching it to the bride's wedding dress, the wedding invitations, the colours scheme, and so on."
On average, how long does it take to put together one of your cakes?
"It's usually a two day process from baking to delivering, but it all depends on the design. Designs that include detailed sugar work can be very time consuming."
How much would you suggest a couple should budget for the cake?
"The cost is very much dependent on the design and medium used (for example, fondant, chocolate, etc). Price also depends on the hours of labour involved in creating a particular cake."
Thanks to Wade for sharing his sugar sweet world with us. Wade's Cakes are offering a special deal of 10% off your wedding cake order if you use the code below.
*offer only valid to Yuppiechef Registry holders
To set up a registry with us, visit our Registry page and read our article on what makes the Yuppiechef Registry service special to learn more about our added extras. You can also sign up for our free 6 part wedding planning email series for handy tips and advice sent regularly ahead of your big day to help ease the stress.