A holly jolly recipe for Christmas cake
Christmas just isn't Christmas without a festive looking cake, right? Fruit cakes tend to get the short end of the cracker but this cake certainly has its merry merits; you can bake it weeks in advance and thanks to the preserving alcohol, it just gets better with age. Hearty thanks to our
festive cake champion
, Sam Lynch, for her winning recipe. Ho ho ho.
Ingredients:
For the cake
360g butter
3 cups sugar
3 cups water
180ml brandy
1 cup raisins
1 cup sultanas
1 ½ cups almond slivers
1 ½ cups crushed pecan nuts
1 ½ cups cherries
1 ½ cups crystallized orange peel
3 tsp bicarbonate of soda
6 eggs, beaten
6 cups flour
3 tsp baking powder
¾ tsp salt
Juice of 1 lemon
For the brandy butter cream
60g butter
3 cups icing sugar
30ml brandy
Tools:
2 x cake pans (ideally 20cm diameter)
Tall pot like a pasta pot
Cake tester or flavour injector
Whisk
Sieve
Palette knife
Method:
1. In a tall pot, bring butter, sugar, water and brandy to the boil.
2. Add raisins and sultanas and simmer for 20 minutes.
3. Add nuts, cherries and peel and simmer for a further 3 minutes.
4. Remove from stove and add bicarb. Take care as it bubbles a lot, hence the tall pot.
5. Allow to cool and add eggs, flour, salt and baking powder.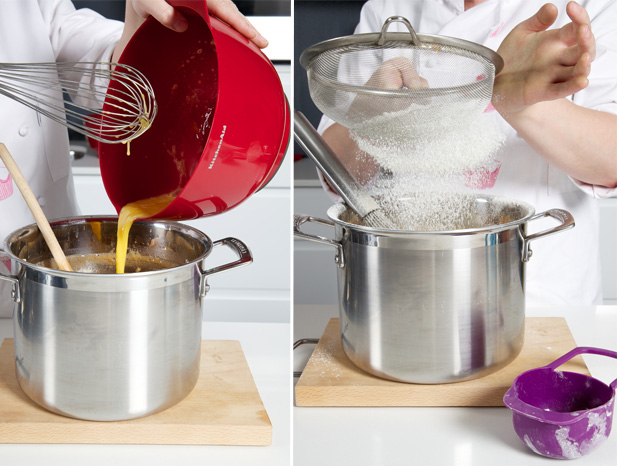 6. Mix well with a whisk and add the lemon juice.
7. Grease 2 x 20cm cake tins with butter and then coat with flour.
8. Pour the mixture into the tins and bake at 150°C for 1 hour and then reduce temperature to 120°C and bake for a further 1 ½ hours.
9. Allow to cool for 25 minutes before removing from the tins.
10. If your cake has a mound in the centre, carefully slice off the top as you want a straight finish to make decorating easier.
11. Allow to cool completely before icing.
12. Should you wish to keep the cake for up to 3 months, inject with brandy at regular intervals around each layer of the cake before icing. Or… just inject with brandy because it tastes oh so festive. If you don't have a flavour injector, simply pierce with a cake tester or skewer and spoon the brandy over the cake.
13. Now for your brandy cream frosting. Cream butter and ½ icing sugar. Add brandy, mix well and add the rest of the icing sugar. Keep adding more icing sugar if you want it to be thicker.
14. Spread a layer of your brandy butter icing over the bottom cake layer before placing the top layer.
15. Now to decide on how you want to decorate your cake. If you don't want to ice your cake, you can leave it as is and serve with custard or cream. If you're an icing fan but you don't want to go the whole hog and ice with fondant, give your cake a thin coating of brandy butter cream (a crumb coating), wait for it to dry and then ice again to get your desired finished.
And, if you want an all-singing-and-dancing fondant cake, you also need to give your cake a 'crumb coating' of buttercream so that the fondant adheres smoothly.
Head this way for a step-by-step masterclass in decorating your Christmas cake with a ribbon and bow.
Huge thanks, Chef Sam. You certainly are a festive cake icing champ.