Homemade waffles with berries and ice cream
Warm, syrup-drizzled waffles are hard to beat. Light, fuss-free and easy to clean, world meet the 
Lékué Waffle Mould
 and, quite possibly, one of the world's easiest desserts. Honeycomb happiness at your fingertips, here's how to make your own waffles at home.
Ingredients:
For the waffles
110g butter
3 eggs, beaten
410ml milk
240g flour
4 Tbsp sugar
2 tsp baking powder
½ tsp salt
For the topping
Vanilla bean ice cream
Maple syrup
Fresh strawberries or any fruit of your choice
Method:
1. Preheat the oven to 220ºC. Melt the butter and mix it with the beaten eggs and milk.
2. Add the flour, sugar, salt and baking powder. Mix together and stir well using a whisk until you have a smooth mixture.
3. Place the Lékué Waffle Moulds on an oven tray. Pour the batter into the moulds and bake in the middle of the oven for 8-9 minutes.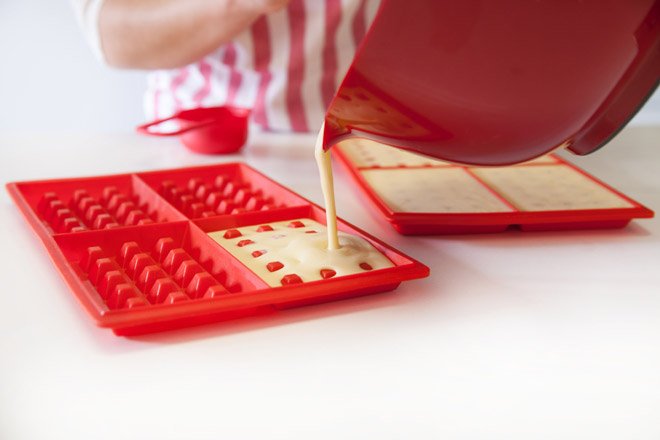 4. Remove the baking tray from the oven, turn the waffles out of the moulds and back onto the baking tray.
5. Cook with the pattern side up for a further 4-5 minutes until they are golden.
5. Top with a scoop of vanilla bean ice cream, generously drizzle with maple syrup and add a scattering of berries.
Isn't it grand when kitchen tools become so fuss-free that you can cook and bake to your heart's every whim? Now every day can be a Belgian holiday. Just like that.
With thanks to Jenna May Viney for the recipe and styling.