Omnichannel retail — our vision for the future
About Yuppiechef Retail Stores
It has been 12 years since we shipped the first Yuppiechef order. What started as two good friends and only 32 products in a lounge in Plumstead, Cape Town, is now a growing team of more than 130 and over 8,800 products from 700 of the world's leading brands. Today Yuppiechef is South Africa's premier kitchen and homeware store.
More than a decade on, we've really enjoyed being part of pioneering South Africa's ecommerce industry. During those early days in 2006, ecommerce enabled us to start a retail business with no stock, staff or expensive rentals. We built it all ourselves and did it our own way, figuring it out as we went and learning every day what it meant to deliver world-class service.
We still love selling online — the huge range we can offer, delivery to every corner of the country and 24/7 convenience. For a long time we believed that ecommerce was the future of retail, and that eventually this channel would "win" and the others would "die".
We were wrong.
The future of retail is 'omnichannel'
As we've grown and changed with the market, we learnt that for many South Africans shopping is still a favourite past-time — spending a Saturday at a mall, meeting friends and eating out. We've also come to realise that, for many of our customers, there's a lot to be said of the physical shopping experience when buying certain products — browsing, getting advice, physically holding an item in one's hand, and the immediacy of the purchase. Shops and malls are not going to disappear any time soon.
We believe that the future of retail is 'omnichannel', which means a combination of physical stores and ecommerce. Our customers shouldn't have to see Yuppiechef as either an online retailer or a physical store, and no channel has to win or lose. We are a single retail brand, and anyone should have the freedom to interact with us on their own terms, whenever and wherever they are.
We want to reach as many people as we can, because we believe that quality kitchen tools and ingredients can change the way you feel about being in the kitchen and help you be a better cook.
That's why we're opening retail stores.
Yuppiechef customers are now able to browse a product online and then come into a store to make a final decision and walk away with their purchase. They can browse in a store, but then have their order delivered to their homes to avoid carrying it around. Customers can stand in a store and scan QR codes using their mobile phones to see product reviews or videos that will help them make a final decision. Through the combination of our online and physical stores our customers have access to a huge range, bigger than any single store.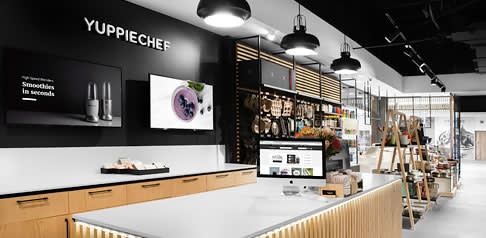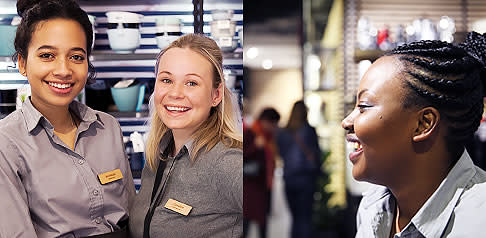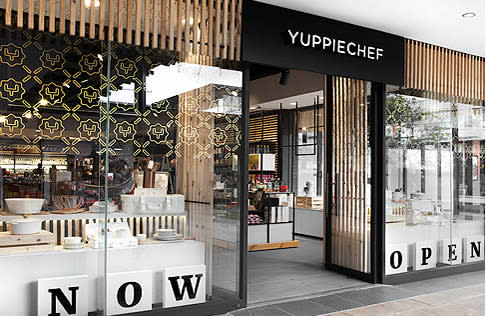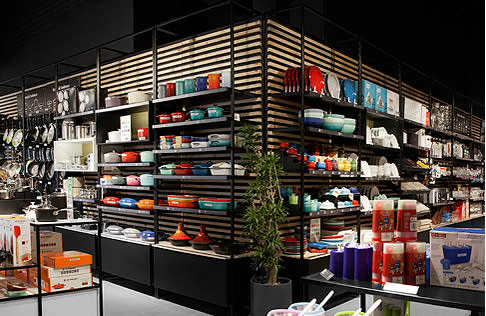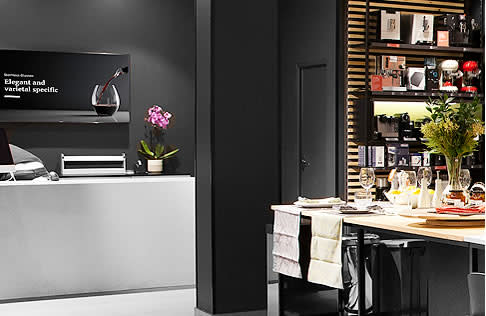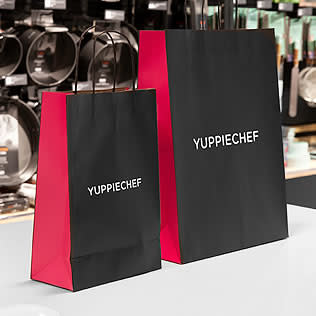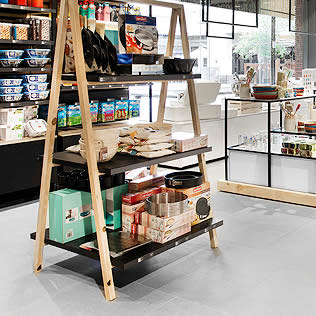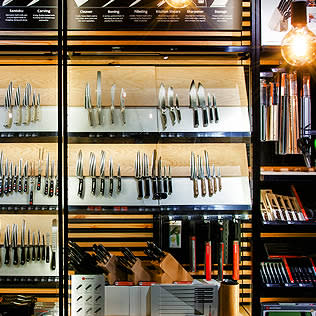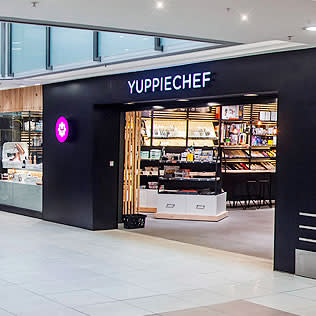 Pioneering retail through tech and design innovation
In 2017, we asked the renowned interior design firm, ARRCC, to help us hone the style and finishes of our first retail space. It resulted in a beautiful store at Willowbridge, with a top quality sales team and world-class products.
Since then, our design capability has moved completely in-house. We've made big technological advances in both the design process of each store, and the in-store experience for customers.
Our team has successfully created 3D models of our stores. These help us plan ancillary store items like stock depth, budgets, marketing plans and replenishment stock flow. What's more, we've built fully-immerse virtual reality (VR) models of our stores that anyone in our team can use to get a feel for and test store layouts long before they're actually built.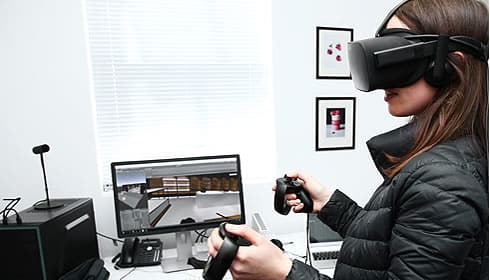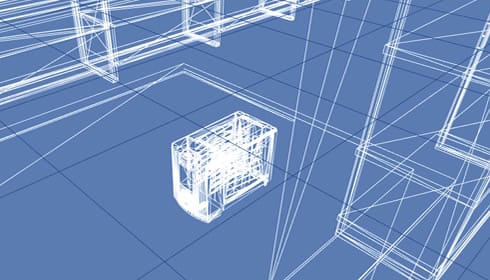 Yuppiechef uses immersive Virtual Reality models to build and test store layouts.
Paul Tyler, our partner from leading shopfitters, RMS Shopfitting, says that in his 25 years in the industry he's never come across this level of advanced technological design.
"The VR experience is completely life-like in the fact that you can stand in the store and look at detail that might be problematic in the real world. It allows you to solve issues that you wouldn't necessarily be able to do off a drawing. The detail also includes the lighting, which can be adjusted according to requirements in virtual reality. It's incredible!" — Paul Tyler, RMS Shopfitting
Early on in our store design process, we also made the bold decision to develop our own mobile point-of-sale (POS) software. We did this because we wanted to serve our customers anywhere in our stores — no queues and faster service. We built on the exact same system as our online store, meaning everything — from product and order information, to prices and stock availability — is available to all stores in real-time. Using our mobile POS, we're able to order an item which might not be in the store, process a return or refund, and help customers pay with a number of options. It's one of the first of its kind in South Africa and the response from our customers has been phenomenal.
We're excited about the new opportunities our omnichannel strategy is opening up for us and we'll continue to innovate in order to deliver the world's best shopping experience for our customers.
Our Store Locations
Westlake Outlet Store
Based at Yuppiechef HQ, our Westlake 'Outlet' Store opened in 2015 as a tentative pilot project. It has since been revamped to mirror our beautiful, larger stores, and carries stock of some key lines, as well as our fantastic, previously-loved 'Seconds from Greatness' range. Since the store is situated next to our extensive warehouse, we can usually fetch products for customers to view and purchase that may not be stocked on the shelves.
Willowbridge Store
Willowbridge is found nestled on the edge of a pristine river parkland in the heart of Cape Town's Northern Suburbs. We like its open air, piazza design and family-friendly atmosphere. The centre offers a modern shopping experience that — in the their own words — "is about beauty rather than bustle, and calm instead of the crowds."
Gardens Store
Gardens Shopping Centre is ideally located for customers on the Atlantic Seaboard, as well as the Cape Town CBD. Its calm, personable atmosphere offers customers unique high-street, boutique-style offerings and specialist stores. We really enjoy the little cafe's and delis, which many customers use as an office from home.
V&A Waterfront Store
The Victoria and Alfred Waterfront is one of Africa's most visited destinations. With Table Mountain as a dramatic backdrop, as well as extensive views of the ocean, city bowl and the surrounding mountain peaks, we love its diverse offering of local and international stores and its coming together of different people and cultures. Our flagship Waterfront store is conveniently positioned on the ground floor of the Victoria Wharf Mall.
Questions You May Have
Can I buy actual products from Yuppiechef retail stores?
Absolutely! Our physical retail stores aren't showrooms or concept stores, but fully functional retail shops with thousands of products to buy.
Is everything you sell online available in your physical stores?
We stock thousands of different products in our stores, but because of the limits of physical space (which is relatively new to us!) each store only holds a selection from our much bigger online range. Customers can, however, pay in store for anything that we sell online and have it delivered to their homes, or choose to come and collect it from the store when it is ready.
As soon as each store is granted a liquour license we are able to sell alcohol from that location.
Is your pricing the same in physical stores as it is at Yuppiechef.com?
Yes, our pricing and special offers are identical no matter which Yuppiechef channel you choose to shop through.
Can I use a voucher I received via the website to shop in Yuppiechef stores?
Yes, Rand amount vouchers and percentage vouchers that you have received from Yuppiechef can be redeemed in stores, provided that they haven't expired. Check your voucher balance.
Will you be opening Yuppiechef stores in Johannesburg? (or Durban / Knysna / Bloemfontein…?)
We hope that our first stores are a big success and the start of more to come throughout South Africa. At this stage we don't have firm plans for where or when future stores will open, but you will be the first to know!
Why did you choose to open stores in Cape Town first and not Johannesburg?
Although Yuppiechef HQ is in Cape Town, our Willowbridge store is about 40km away, making it far enough from us to give us all the challenges of being in another city, while still being close enough to hop into a car and drive there should we need to.
Do the Yuppiechef stores do product demos?
Our stores have functioning cooking and coffee areas to show-off products, and we're experimenting with what is most useful and engaging for customers over time. To date, we've done several demos at our Willowbridge store, with more to come in the following months.
Will the Yuppiechef store staff be able to help me with my Wedding Registry? (or monthly subscription / lost password / cheese soufflé recipe…?)
Yes! We have hired fantastic store teams who spend more than a month in intensive training at Yuppiechef HQ learning about every part of the business, and shadowing the different teams. They should know the answers to most of your Yuppiechef-related questions, and they have a hotline to the right people to help with the rest.
They also have extensive and varied foody backgrounds, so the chances are pretty good that they can help with that soufflé recipe.
Do the Yuppiechef stores have Wifi?
Yes, there is free wifi in the store and also computers for you and a staff member to look up products and information. You can also scan product QR codes on your mobile phone to instantly look up product information and customer reviews online.
If I buy something online and choose to collect it from a Yuppiechef store, how long will it take to get there?
If we have everything from your order available in our warehouse (the product pages will say "can ship immediately") your order should be ready for collection at a Yuppiechef store within 24 hours of payment. However, to avoid a wasted trip it is important to wait to receive the email that lets you know that your parcel has arrived at the store.
Where are your Cape Town stores?