A few of our customers have let us know they've received an email asking them to fill out a form for a refund. The email looks like it's coming from us, but it's not, it's a phishing scam.
The link in the email leads to a web address for "yuppiiechef" (with two i's), showing a login page that looks exactly like the Yuppiechef website, and then a form asking for credit card details. Again, this isn't our website and you shouldn't complete the form.
There's currently no reason to believe that our or your data has been put at risk - unless you've responded to the email.
Phishing scams work by tricking you into clicking on a link or attachment that either infects your machine with malicious software or takes you to a page that looks real, but isn't, and is specifically designed to steal your confidential information — like your usernames, passwords and credit card details.
Actions to take:
If you have already responded to a phishing email
If you entered your card details, please contact your bank immediately to cancel your card.
If you logged into the fake account page, please change your Yuppiechef password.
If you use that password for any other accounts, please change those passwords too, and use a different new password each time.
Always check that you're on the correct website
Scammers will take you to websites that look real, but aren't. They're designed to trick you into believing you're on a trusted website so that they can steal your information.
If you're unsure, press the lock icon in your browsers address bar. You should see the full website address details, along with security details.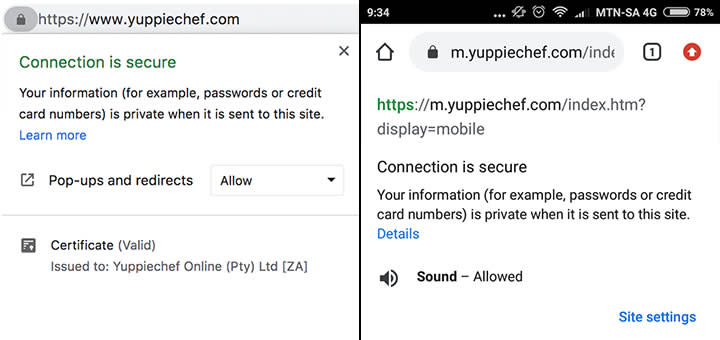 Be on the lookout for phishing attempts, and make sure that you are on the https://www.yuppiechef.com (desktop) or https://m.yuppiechef.com (mobile) website when updating any personal details.
Always check that the email you're receiving is from the correct address
Like scam websites, scam emails are designed to look real, but are not. Always check the email address it's coming from - not just the sender name - and be especially careful of spelling errors in the address. A Yuppiechef email will always come from an @yuppiechef.com address. In this case, one address used to send the email came from "beetle.bkk-server".
Think before you click
When you're on a trusted website, it's fine to click a link. But clicking on links in suspicious sounding emails, is dangerous. If you're unsure, it's always best to phone our customer support team at 0861 702 4969.
Use a strong password
Password Don'ts:
Don't use a single dictionary word as your password, e.g. love, because these are the first to be cracked
Don't use the same password across multiple accounts
Don't use words that you can be associated with e.g. Name, Surname, Family Members, Company, Birthday, Pets, etc.
Don't give out your password to anyone
Password Do's:
The length of your password should be at least 8 characters
Use both uppercase and lowercase characters
Include at least one special character (e.g. ! ? # $)
Use a password manager like 1Password.com
Let your password manager generate a different password for each website
You'll never have to remember these passwords
You can learn more about how to manage your email address and password settings for your Yuppiechef account in our Help Center.