We've opened our second store
Our second physical store is open in Gardens Shopping Centre in the Cape Town CBD. The doors at Yuppiechef Gardens opened just nine months after our first brick-and-mortar Yuppiechef Store did at Willowbridge, in Tygervalley, Cape Town. Our Willowbridge Store has been incredibly well supported, so opening a second store was the natural next step.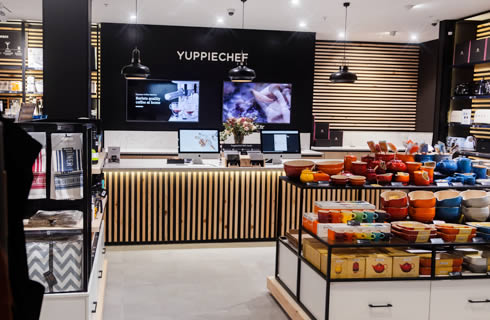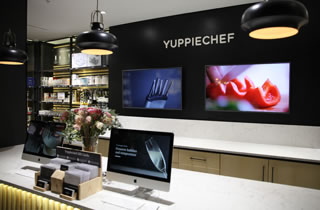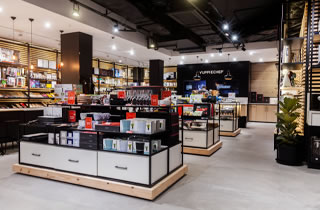 Interior views of Yuppiechef's Gardens Centre Store
We opened our first store in response to the changing landscape of retail. Our customers still enjoy the physical shopping experience — browsing, getting advice, the immediacy of purchase, seeing and being seen — and want to benefit from the best of both online and offline shopping has to offer. We used to believe that the future was ecommerce but we're happy to have been proven wrong! Indeed, the feedback we're getting from our both our Willowbridge and Gardens customers is that they're enjoying the 'omnichannel' experience — the ability to both click and collect as well as view the product in-store, while still taking delivery at their homes or offices.

Our customers are able to use their own mobile phones to scan QR codes in store, which leads directly to product pages online. At the touch of a button, customers can make a more informed decision on a purchase based on the experience of others through customer reviews, and the in-depth product information available on Yuppiechef.com.
What's more, we've designed our own mobile point-of-sale software, so that we can serve customers anywhere in the store — this means no queues and faster service. Using our mobile point-of-sale, we're able to order an item which might not be in the store, process a return or refund if needed, and help you pay with a number of options.
We're excited about the new opportunities Yuppiechef's omnichannel strategy is opening up for us and we'll continue to innovate in order to deliver the world's best shopping experience for our customers. If you're in the CBD, please pop in, we'd love to meet you
Take care,
The Yuppiechef team
Media Queries & Downloads
About Gardens Shopping Centre
Gardens Shopping Centre is ideally located for shoppers on the Atlantic Seaboard, as well as the Cape Town CBD. Its calm, personable atmosphere offers customers unique high-street, boutique-style offerings and specialist stores — from health and beauty, to fashion, lifestyle and décor. Cafés and delis round off the offering for regular customers, who enjoy the centre as an office from home.
Questions You May Have
Will I be able to buy actual products from Yuppiechef retail stores?
Absolutely! Our physical retail stores aren't showrooms or concept stores, but fully functional retail shops with over thousands of products to buy.
Will everything you sell online be available in physical stores?
We will stock thousands of different products in our stores, but because of the limits of physical space (which is relatively new to us!) each store will still only hold a selection from our much bigger online range. Customers will, however, be able to pay in store for anything that we sell online and have it delivered to their homes, or choose to come and collect it from the store when it is ready.
We don't have a liquor license at our Yuppiechef Willowbridge store, so no alcohol sales from there just yet.
Is your pricing the same in physical stores as it is at Yuppiechef.com?
Yes, our pricing and special offers will be identical no matter which Yuppiechef channel you choose to shop through.
Can I use a voucher I received via the website to shop in Yuppiechef stores?
Yes, Rand amount vouchers and percentage vouchers that you have received from Yuppiechef can be redeemed in the store, provided that they haven't expired. Check your voucher balance.
Will you be opening Yuppiechef stores in Johannesburg? (or Durban / Knysna / Bloemfontein…?)
We hope that our first two stores are a big success and the start of more to come throughout South Africa. At this stage we don't have firm plans for where or when future stores will open, but you will be the first to know!
Why did you choose to open stores in Cape Town first and not Johannesburg?
Although Yuppiechef HQ is in Cape Town, our Willowbridge store is about 40km away, making it far enough from us to give us all the challenges of being in another city, while still being close enough to hop into a car and drive there should we need to.
Will the Yuppiechef stores do product demos?
Our stores have functioning cooking and coffee areas to show-off products, and we're experimenting with what is most useful and engaging for customers over time. To date, we've done several demos at our Willowbridge store, with more to come in the following months.
Will the Yuppiechef store staff be able to help me with my Wedding Registry? (or monthly subscription / lost password / cheese soufflé recipe…?)
Yes! We have hired fantastic store teams who spend more than a month in intensive training at Yuppiechef HQ learning about every part of the business, and shadowing the different teams. They should know the answers to most of your Yuppiechef-related questions, and they have a hotline to the right people to help with the rest.
They also have extensive and varied foody backgrounds, so the chances are pretty good that they can help with that soufflé recipe.
Do the Yuppiechef stores have Wifi?
Yes, there is free wifi in the store and also computers for you and a staff member to look up products and information. You can also scan product QR codes on your mobile phone to instantly look up product information and customer reviews online.
If I buy something online and choose to collect it from a Yuppiechef store, how long will it take to get there?
If we have everything from your order available in our warehouse (the product pages will say "can ship immediately") your order should be ready for collection at a Yuppiechef store within 24 hours of payment. However, to avoid a wasted trip it is important to wait to receive the email that lets you know that your parcel has arrived at the store.
Where are your Cape Town stores?