Zoku yoghurt pops from under da sea
We can't think of a single living soul (or should we say shoal) that doesn't start doing the shoulder jig to the tune from the Little Mermaid. Most likely because we all just love to let our inner kid enjoy the simple and the silly in life. And also because who doesn't love the sea? With these new
Zoku Fish Slow Pop Freezer Moulds
on our shelves we had ourselves a whale of a time embracing our inner kid and iced up some tasty yoghurt pops.
Ingredients:
600ml yoghurt (we used double thick yoghurt)
½ cup blueberries
½ cup chopped strawberries
1⁄2 cup mango, finely chopped
Honey (optional)
Method:
1. Divide the yoghurt into 3 portions of 200ml each.
2. Mix the blueberries into one, the strawberries into the other and the mango bits into the last batch. Blend each mixture until smooth with a stick blender.
3. Pour the mixture into each mould (you could do it in stripes too if you like).
4. Place the moulds in the freezer to set according to packet instructions.
5. When ready to serve, remove for a few minutes beforehand to soften slightly.
Pull out the pops and serve. Kids and adults will all be happy as a clams with these little treats.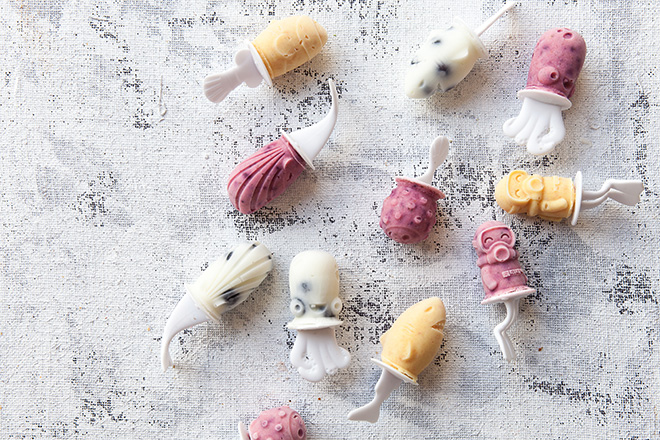 While we might not all have our very own singing crustacean pal, like Ariel, to remind us that life is indeed da bubbles, under da sea, making these Zoku yoghurt pops of swimming berry flavoured divers and adorable sharks and urchins is a world of fishy fun.
Think of how well they'll go down for any pool parties or ocean themed kiddies birthdays (and grown up birthdays too).