Yuppiechef's top 5 Instagram moments
If a picture speaks a thousand words, Instagram could talk the hind leg off many donkeys. We use it to record happenings and life at Yuppiechef HQ and since joining in January 2011, these five photos have been the favourites of our
Instagram community
.
When the Lékué Citrus Spray arrived at HQ we had fun testing it on nearby lemons. This was also the first time Carryn's hand made an appearance on social media (she lives in Hollywood now).
Our kitchen is a cosy spot. There are green apples, lovely aroma's, sprucey plants and even a chalkboard that changes monthly with different chalky doodles by our Andrèa. Inspiring, hey?
They say girls are made of sugar, spice and all things nice, but we think girls are actually made of cinnamon buns (get the recipe). Boys are definitely made of puppydogs' tails, though, they were correct about that.
This is our new delivery van. Our friends at Aramex decided to wrap it up in pink and silver to let the world know a little more about the cargo. We're glad, best truck ever.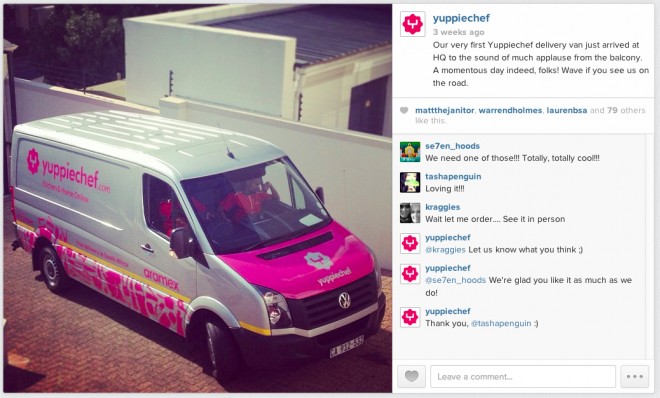 The most popular photo to date is this one of our seventh birthday cake, snapped just last week. Perhaps it was the sugar eggs, perhaps it was the cheeky Mash the Monkey or perhaps it is just because we all love a birthday.
Join us on Instagram for a unique glance into our lives on this side of the internet.