Yuppiechef holds Woolies Lovebird ransom
Update 14/02/2010: We hit R100,000!
Update 12/02/2010: Fin24 donates R10k & challenges others
Update 10/02/2010: Standard Bank Group gives Soil for Life R10,000
Update 09/02/2010: Sanlam Developing Markets donates R10,000
Update 05/02/2010: Philips donates R10,000
Update 02/02/2010: Woolies breaks down in tears
Latest press coverage (they're having a field day)
So this weekend we were wandering through Woolworths and came across their exciting Woolies Lovebird competition, advertised throughout their national network of stores on big posters (thanks for the pic @TalyaGoldberg).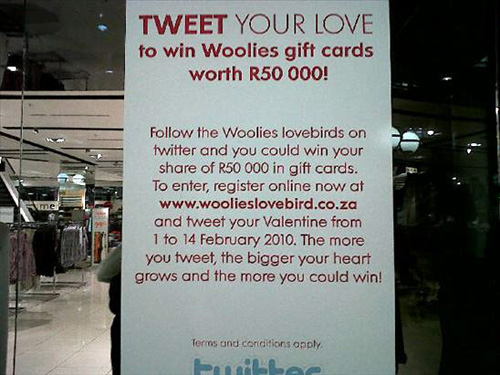 It really is an exciting competition, and we wanted in, so we went online to check it out: www.woolieslovebird.co.za… just as the poster says. But the URL was not registered. What they meant to write was www.woolieslovebirds.co.za. We can only assume that the hangovers from the Woolies New Year's parties were the cause for this little oversight. So we did something sneaky: we registered it and now we're holding it ransom.
To get it back, and have us point the address to their competition asap, we're asking Woolies to match, rand for rand, all donations made towards our 2010 charity, Soil for Life, between now and Valentines Day (and to be nice, we'll put a limit of R5000 on it). Sound good? Excellent. So we invite all our fans to go ahead and donate R25 or more to support a great cause and make Woolies pay or the lovebirds get it 😉
UPDATE: 2 February 2010: TOTAL R9,000
Woolies has broken down in tears and has begged for their lovebirds back. Not only have they agreed to pay the ransom, they have volunteered an extra R2500 towards Soil for Life! Even better, they've allowed us to hold onto the web address because they believe this is such a worthy cause – hooray! So donate now to save the lovebirds;)
And if you're a real lovebird, fly away and be free: www.woolieslovebirds.co.za
UPDATE: 5 February 2010: TOTAL R50,600
After our interview this morning on 94.7 Highveld with Jeremy Mansfield, Philips South Africa got hold of us and said they would match a further R10,000 in donations! Thank you, Philips. We are moved. In addition to R5,000 donated by fans this morning since the show, KitchenAid South Africa lent their support and added R2,000 to the pot. If we added more exclamation marks to this paragraph it would start to look silly.
Total raised at the time of writing: R33,100 + R7,500 Woolies Ransom + R10,000 Philips contribution: R50,600!
===

UPDATE: 9 February 2010: TOTAL R66,600
Sanlam Developing Markets called us this morning saying that they have just deposited R10,000 in our account towards Soil for Life! Thank you, Sanlam Developing Markets. Once again we are stunned by the generosity of people out there. Many other people have contributed in the last few days to raise our total to R66,000!
===

UPDATE: 10 February 2010: TOTAL R79,000
Standard Bank Group (@StandardBankGrp) announced today on their blog that they are contributing R10,000 to Soil for Life! Incredible. Thank you Standard Bank Group. Read about it here: http://bit.ly/a716SJ. Total now R79,000.
===

UPDATE: 12 February 2010: TOTAL R92,000
Just received a call this morning from Hayely at Fin24 (@Fin24) saying that they are going to donate R10,000 as well and put the challenge out there other companies in their industry to do the same! Here's what they had to say:
Fin24.com challenge all media companies, and everyone linked to the industry including our readers, advertising and media agencies, PR companies and investor relations firms to, ahem, dig deep and see love, and gardens, blossom this Valentine's Day through Soil for Life.
Wow! Total sitting at R92,000. 2 days to go…
===

UPDATE: 14 February 2010: TOTAL R100,050
With 56 minutes to go before the close of Valentine's day, the donations to Soil for Life from Yuppiechef fans hit the R100,000 mark. Absolutely incredible. For a project that started with a target of R5,000, we have been humbled by your generosity and support. Thank you Yuppiechef fans!
===

Press Coverage
A big shout out to everyone in the press who has covered this story to date. The requests for interviews in print, radio and TV are coming in thick and fast. This is fantastic for Soil for Life, it's fantastic for us and in a way it's even pretty cool for Woolies. Anyone who needs more info can contact me (I am Paul) on media@yuppiechef.com. Here are a few of the highlights of the week.
Paul interviewed on Media & Money on CNBC Africa
Mashudu Masutha chats to Paul about the ransom. Watch it here if the video below doesn't play.

94.7 Highveld's Rude Awakening with Jeremy Mansfield
Jeremy interviews Paul and gives us a huge punt at the peak of rush hour traffic on Johannesburg's biggest show.
Highveld 94.7 Jeremy Mansfield & Paul Galatis by Yuppiechef
Cape Talk: John Cherry breaks the story
Cape Talk 3/02/2010, John Cherry speaks about the Woolies Ransom by Yuppiechef
SAFM: Michelle Constant interviews Paul about the ransom
SAFM 6/02/2010, Michelle Constant interviews Paul about the ransom by Yuppiechef
Mail & Guardian Online
The Daily Maverick
Ambush marketers hold Woolworths to ransom, and get some lovin' in return
My Digital Life
Woolworths Goes Web 2.0 For Valentine's Campaign
Ideate
SA online retailer holds Woolworths to ransom
===
A bit more about Soil for Life
Soil for Life are a wonderful bunch of people whose mandate is quite simply to 'heal the soil, heal the plants, and heal the people'. Their main work is in under privileged communities where they teach people how to start their own home gardens, provide on-going support through a team of field workers and over time see them blossom into agricultural experts! Find out more