How it works: Nutribullet High Speed Blender
Smoothies on the go are something we can all get behind. But wouldn't it be great if you didn't need to whip out your great, big blender every time? Thankfully, just in time for summer, there's a new guy on the scene that's about to turn smoothie making on it's head. Meet our compact friend, the
Nutribullet
and see why we love it so.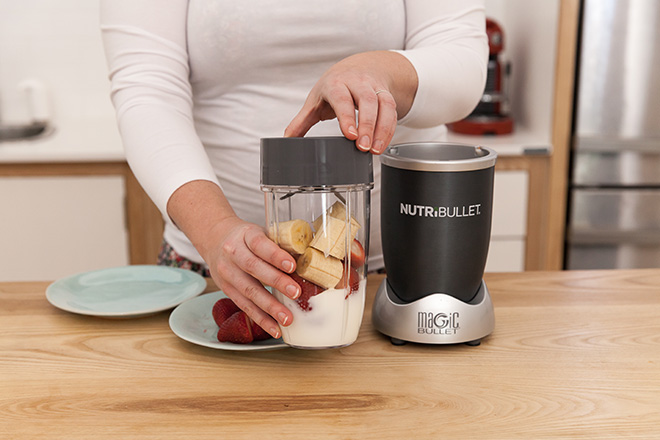 The Nutribullet High Speed Blender is perfect for avid smoothie drinkers, as it's compact and tidy enough to keep on your counter and so high speed that it can blitz just about anything your breakfast shake heart desires. See it here in action.
How it works:
1. Fill the cup with fruit or veggies, and a bit of liquid – either water for juice or yoghurt for a smoothie.
2. Screw on the lid with the blade attachment, and make sure they are attached properly. Flip the whole thing over and place it on top of the main body of the Nutribullet.
3. There are small notches in the top of the main body and small protrusions that come out of the lid/blade housing. Line those up and push the Nutribullet down, and twist slightly to engage the motor. As soon as the motor is engaged, the blades will start whirring (don't get scared, it's meant to).
4. When you are done, push and twist in the opposite direction to disengage the motor. Et voila! You're done.
The Nutribullet comes with a variety of cups (the tall one pictured, and a smaller one with a travel handle), so you can make your smoothie, pop a lid on the cup you just blended it in and go. It also comes with two blades – one for wet blending (smoothies and juicing) and one for dry grinding of seeds and nuts for flours and nut butters. Versatility, thy name is Nutribullet.
Buy the Nutribullet High Speed Blender.
If you have a thing for nifty gadgets check out some more products in our How it works series.
Sometimes even seemingly simple things deserve a little more explanation. Seen something interesting but still wondering how it works? Leave us a comment below and we'd be happy to oblige.