Why you should consider a bamboo chopping board
We've spoken about
how to choose a chopping board
before, and touched very briefly on bamboo boards in that discussion. Since then, we've put our stamp on our very own eco-friendly,
Yuppiechef Bamboo Chopping Board
and just can't stop singing its praises. Here are a few brilliant reasons why bamboo boards are your kitchen's new best bud.
Environmentally friendly
Bamboo is amazing. It regrows in three to four years (versus the 20 years plus it takes for hardwoods to grow back), and although it's actually a grass, it is as dense as most hardwoods, so it's incredibly long lasting. Because of all these factors, it's a great choice for those trying to live more greenly.
Great for knives
Bamboo, like hardwood, is cited as being excellent for knives, as they are softer and easier on the blade than many other materials, as well as being self-healing. What does that mean? When the knife slices through your food and into the board, the fibres of the board part, allowing the knife in, (all on a microscopic scale, of course) cushioning it and preserving the edge of the blade. When you lift it up, the fibres snap back together again, keeping the board looking great.
Antibacterial
The hardness of bamboo keeps its shape, resisting cuts and scrapes. It is also naturally antibacterial and antimicrobial, resisting the growth of bacteria. So although you cannot put this wooden board into the dishwasher, a quick scrub with hot, soapy water will keep your board clean and healthy for many years.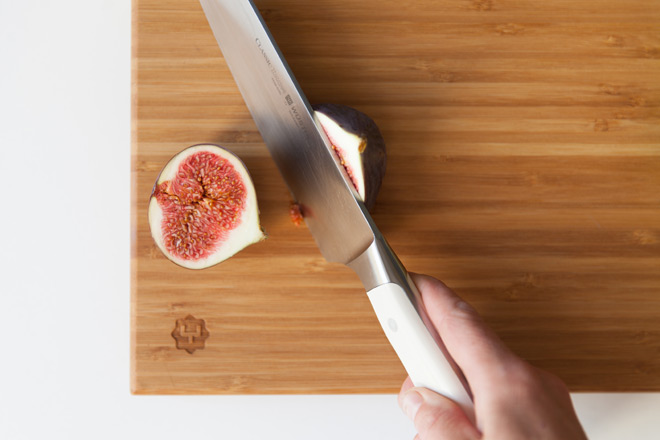 All in all, bamboo is an excellent material for chopping boards (along with their hardwood cousins which are, for the most part, a lot more expensive). And since we're big fans of this material, we have designed our very own bamboo chopping board, stamped with our Yuppiechef cookie cutter logo on one side, and an indented groove for carving on the other. So if you're in the market for a chopping board that will go the distance, we've got your back.