White chocolate and cranberry cookies from the Hummingbird Bakery
We're big fans of the two 
Hummingbird Bakery cookbooks
 and set our customer service champion, Olivia, to work making these festive cookies from the latest book,
Cake Days
. Homemade Christmas present, perhaps? (If you're keen to find out more about the bakery that is widely credited as having launched the cupcake to heady heights,
head this way
.)
Slightly tart cranberries and sweet white chocolate chips make a great taste combination that is perfectly suited to the festive season. If you like your cookies a bit soft and chewy, then take them out of the oven as soon as they start to turn golden.
Ingredients (makes 10-12 cookies):
135g (5oz) unsalted butter
80g (3oz) caster sugar
80g (3oz) soft light brown sugar
1 egg
1/2 tsp vanilla essence
190g (7oz) plain flour
1/2 tsp salt
1/4 tsp ground cinnamon
1/2 tsp bicarbonate of soda
100g (3 and 1/2oz) dried cranberries
60g (2oz) white chocolate chips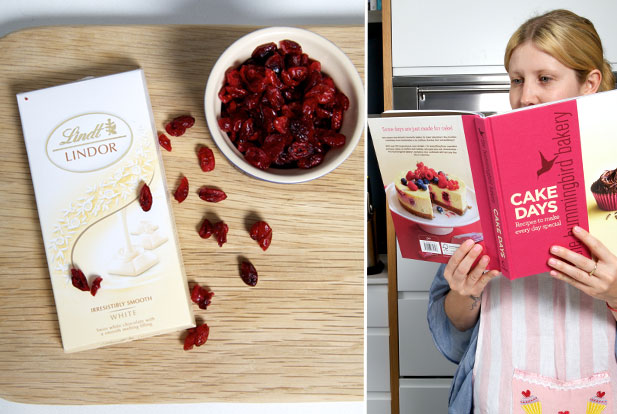 Method:
1. Preheat the oven to 170°C (325°F), Gas mark 3, and line two baking sheets with baking parchment.
2. Using a hand-held electric whisk or a freestanding electric mixer with the paddle attachment, cream together the butter and both types of sugar, then break in the egg, add the vanilla essence and mix well together.
3. Sift together the flour, salt, cinnamon and bicarbonate of soda, then add to the creamed mixture in two batches, mixing thoroughly in the mixer or by hand until a dough forms. Lastly stir in the cranberries and chocolate chips.
4. Break off pieces of the dough (about 2 tablespoons in size), roll them into balls and place on the preapred baking sheets. Allow five or six cookies per tray, making sure to space them apart from each other (by 7-8cm/about 3in) as they will spread during cooking.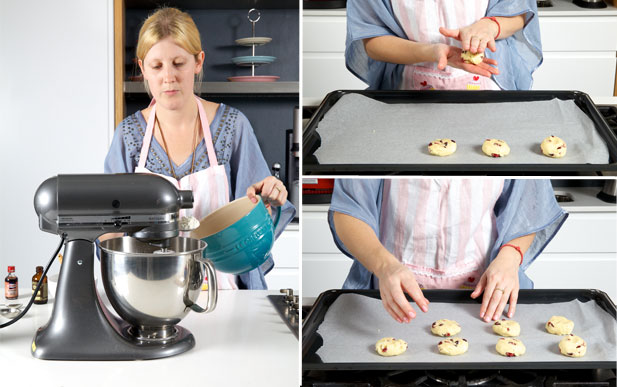 5. Place in the oven and bake for 15-20 minutes or until the cookies are a light golden on top. Leave on the sheets for about 10 minutes to cool and set before transferring to a wire rack.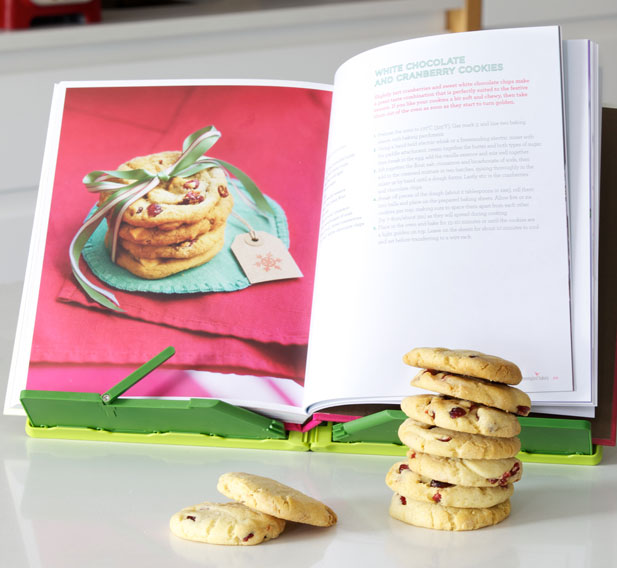 What a winner of a recipe. Easy to make and delicious to eat. Thank you, Hummingbird Bakery.
This recipe was taken from Cake Days. Browse all Hummingbird Bakery cookbooks on Yuppiechef.com.