Welcome to the beautiful world of Phaidon
Amongst foodies in the know
Phaidon
has firmly established itself as a publisher of excellent quality, meticulously curated and genre-defining cookbooks. We've welcomed a fine selection of these beautiful books to our Yuppiechef fold. Here's what all the fuss is about.
How it all began
Emilia Terragni, editorial director of Phaidon Press is credited with establishing Phaidon's esteemed reputation. It all started in 2005 when Italian born Emilia worked on the translation of
the Silver Spoon
from its native Italian into English. The book quickly became an international bestseller. Emilia has continued to pair incredible graphic designers with some of the world's best chefs and in six years Phaidon has become one of the most influential publishers in the cookbook industry.
Phaidon's cookbook list can be split into three broad categories: national classics such as the Silver Spoon; niche restaurant collaborations with some of the best chefs in the world such as Noma and specialist cookbooks such as Terrine. Here are some of our favourites.
The Silver Spoon
Il cucchiaio d'argento is the most successful Italian cookbook of the last 50 years. Today it can be found in nearly every Italian kitchen and is the wedding present to give to every Italian bride. The Silver Spoon includes over 2,000 recipes (that's a whopping 1,464 pages) and is widely credited as the bible of traditional Italian cooking.
Following the success of the Silver Spoon, Phaidon has translated similar cooking 'bibles': 1080 Recipes is a definitive collection of Spanish culinary heritage, illustrated by the famous Spanish artist, Javier Mariscal; Vefa's Kitchen is a vast foodie journey of Greece and I Know How to Cook is the go-to resource for French cuisine and for Indian food, India of course.
The Family Meal
Ferran Adrià's restaurant in Northern Spain, el Bulli, won the coveted World's 50 Best Restaurants title a record five times. Each evening at 6pm the staff of the legendary restaurant would stop what they were doing and sit down for a three course meal. This meal is referred to as 'the Family Meal' and is the inspiration for this book. Featuring 31 mouthwatering meals (each made up of 3 recipes) it's easy to see why this book is one of Shane's favourites.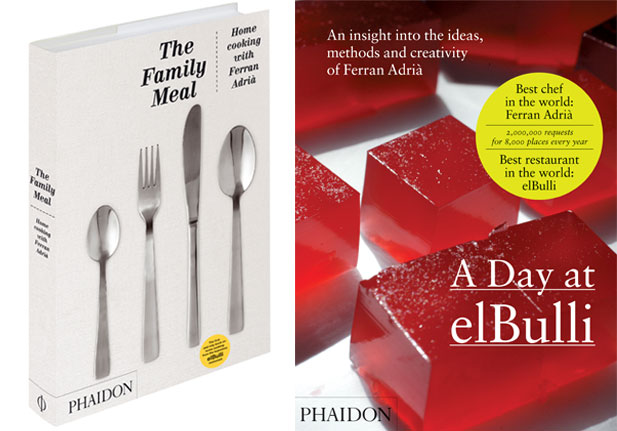 Are you a Ferran Adrià fan? Full of insights and techniques from the man people call a genius, you might also want to add A Day at el Bulli to your shelves.
Noma
At 32, René Redzepi is one of the most influential chefs worldwide and his restaurant, Noma, in Copenhagen, has been voted best restaurant in the world three times. With a focus on fresh, seasonal and interesting ingredients, Redzepi uses food to reinvent and retell the story of Nordic cuisine. Step right up for inspiration from one of the world's super chefs with this book, Noma.

Breakfast, Lunch, Tea is another of Phaidon's restaurant inspired cookbooks based on Rose Carrarini's Rose Bakery in Paris's 9th Arrondissement.
The Art of French Baking
If you love pastry and desserts as much as the French, The Art of French Baking by Ginette Mathiot will guide you through more than 350 French pastry and dessert recipes, and includes details of equipment needed and basic techniques.

Other specialist cookbooks from Phaidon include Fish: Recipes from the Sea and Terrine.
What to Cook and How to Cook it
If you're daunted by dinner or terrified of tea, Jane Hornby's What to Cook and How to Cook it guides you through the basics. This is the ultimate step-by-step guide  for everyone from the student leaving home for the first time to the uninspired but accomplished cook. Fresh & Easy builds on the success of Hornby's first book and features light and simple recipes using seasonal ingredients – perfect for sharing with friends.

If you are after a round-the-world culinary journey, Phaidon is your ticket. These hefty and oh-so-impressive books will see you through many a kitchen adventure and could just be the books you choose to hand down to your grandkids.
Check out the full Phaidon range of books on Yuppiechef.com