Wedding cake suppliers
There's nothing easy about selecting the perfect wedding cake. To match our online 
wedding registry
 offering we decided to whip up a comprehensive SA wedding cake suppliers resource (although we haven't been lucky enough to taste them all). May the power of matrimonial crumbs be with you.
Cape Town
Cakes by Wade
Rondebosch
(021) 685 5041 (Wade van der Merwe)
www.wadescakes.co.za
It's no surprise really that Wade van der Merwe is passionate about the sweeter things in life with his high tea at the Orient Express Hotel having received international recognition. He has even represented South Africa as a member of the South African Culinary Olympic team. So you could say he's a confectionery champion. Cakes by Wade specialise in creating individually designed and flavoured cakes for any occasion, from delicate wedding cakes to edible gifts and decadent desserts. Oh la la.
Chef Sam
Cape Town
www.chefsam.co.za
www.facebook.com/chefsamcakes
We first discovered the beautifully sculptural cakes made by Chef Sam through a Festive Cake Icing competition in 2011. A true master of fondant sculpting Chef Sam's motto is passion, flavour, love. Everything is produced with these aspects in mind. They specialise in edible figurine work and creating cakes with character with an over aim of making a special occasion an extra special one with one-of-a-kind cakes, cupcakes and biscuits. If unique is what you're looking for, Chef Sam will have a cake design for you.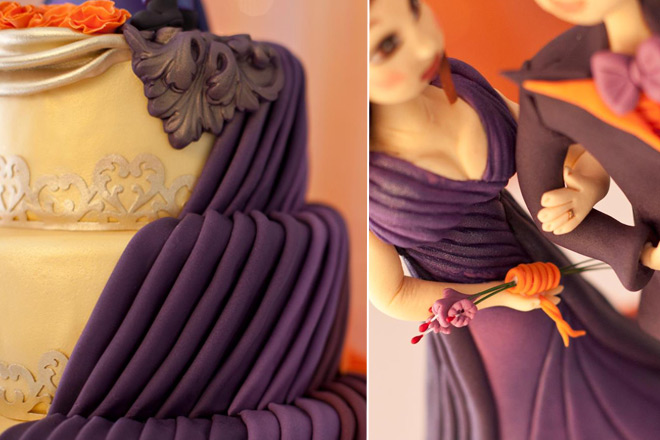 Eat Cake Party
Wellington
083  789 4704 (Dot)
www.eatcakeparty.co.za
www.facebook.com/eatcakeparty
Keen for a cake that's a little unconventional? At Eat Cake Party custom sculpted cakes are the order of the day, so if you're looking for your guests to gasp and ask, 'Is that really a cake?' then this talented team is your winning bet. Flying, hanging, impossible designs, anything you imagine can be turned into cake. Every cake design is unique so you can be assured that your sculptural masterpiece will be a wedding one-of-a-kind.
Edible Art Cakes
Cape Town
071 390 5329 (Maggi)
www.edible-art-cakes.co.za
www.facebook.com/edible.art.cakes.maggi
At Edible Art Cakes passion, attention to detail and excellence are all stirred into the mix of unique cakes perfectly suited to the personality of any outlandish bridal couple. Some of their cakes look like sculptural art pieces and we're assured that every bite is as delicious to eat as it is to look at. They also specialise in creating unique dessert tables, couture cakes as well as custom-made confectionery for all occasions. If your heart can desire it, they believe they can create it.
Lady Lucy's Kitchen
Cape Town
www.ladylucyskitchen.co.za
www.facebook.com/LadyLucysKitchen
Lady Lucy's Kitchen is all about intensifying the relationship between quality and beauty. This team of dedicated bakers spend a great deal of time balancing ingredients to create gourmet cupcakes and cakes that look good and taste great, all with the Lady Lucy twist. They cater for special occasions, corporate events or simply for individuals craving an indulgent treat.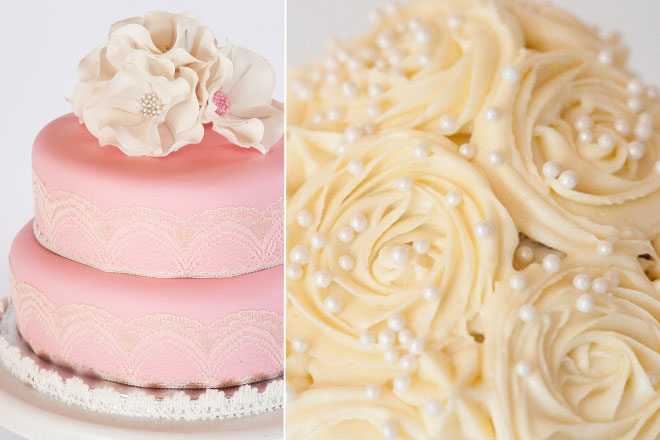 Mrs Jones Cakes
Bellville
083 263 7497
www.MrsJones.co.za
www.Facebook.com/MrsJonesCakes
Mrs Jones Cakes design, bake and make wedding cakes that taste as fantastic as they look. Only the best ingredients are used to create moist and delicious cakes. They also offer cake tasting and design sessions to help you find the perfect cake for your big day. When required, Mrs Jones is even available to set up cake tables and will collaborate with florists, event coordinators and venues to make sure the way your cake is displayed suits the theme of your wedding.
Nikki's Cakes
Cape Town
083 320 8397
www.facebook.com/nikkisdeliciouscakes
Nikki's Cakes pride themselves on creating novelty cakes for any special occasion that won't break the bank. So if you're looking for something that will stand out from the crowd and continue to be the talk of the party long after the balloons have deflated, Nikki's Cakes are where you want to be. If you can dream it up, it can be baked.
Roxanne Floquet Cake Design
Constantia
083 226 2471
www.roxannefloquet.com
www.facebook.com/pages/Roxanne-Floquet-Cake-Design/169705679721994
Roxanne Floquet Cake Design offers a bespoke service specialising in wedding and birthday cakes, as well as biscuits, petit fours, cupcakes and miniature cakes for Cape Town and surrounding areas. Using only top notch ingredients sourced from superior fine food suppliers ensures that each of the fifteen mouth-watering flavours are a treat indeed. Enjoy a cake tasting in Roxanne's tasting room which will prove to be a memorable experience leading up to your wedding day.
Wendy McLeod Cake Design
Cape Town
082 927 7261​ (Wendy)
www.wendyscakedesign.com
www.facebook.com/wendyscakedesign?ref=ts&fref=ts
Wendy McLeod Cake Design lives by this simple aim: to provide beautiful, bespoke wedding cakes using the best quality ingredients to compliment any bride's wedding day. With heaps of passion, a dedicated kitchen and ample flexibility, not to mention a boundless joy in the art of sugar craft and a qualification from the Peggy Porschen Academy in London, Wendy's cakes are a sweet sight indeed. She's also looking into offering classes on the delicate art of handcrafted sugar flowers, so cake lovers, keep your peepers open.
Johannesburg
Annica's Designer Cakes
Randberg
(0)113261526 (Nicolette)
www.annicascakes.co.za
At Annica's, great pride is taken in making the entire cake selection process a memorable one. Be it birthdays, weddings, births, anniversaries or any other occasional cakes, their skilled confectioners work with precision and care, paying special attention to even the finest detail. From mud cakes to mousses with sponges in between, Annica's cakes offer diversity and range.
Cakes by Clamilla's
Johannesburg
082 924 9990 (Linda)
www.facebook.com/CakesByClamillas
From traditional cakes to those with a touch of whimsy, from simple to sensational, Clamilla's aim is to create a delicious memory for any special occasion. The Clamilla's team have over 35 years experience and their cakes are personalised in consultation with the client, where an endless variety of flavour, filling, covering and topping are available to choose from. Specialising in sugar art and chocolate, this team loves to learn, so are always keen on adapting their skills to include new ideas in the art of baking.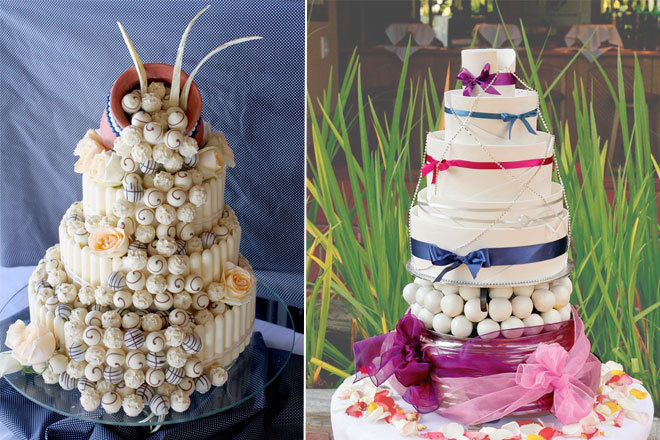 Frosted Fancies
Alberton
083 560 7606 (Karin)
www.pienaarkarin.wix.com/frostedfancies
www.facebook.com/frostedfanciesjhb#
With passion, a high regard for quality and attention to detail, Frosted Fancies specialise in making lovely cakes for all occasions as well as unique and beautiful dessert tables filled with delicious confectionery. Whether it's a large wedding, an intimate birthday gathering, a fun baby shower or a jolly kid's party, there's a cake for every occasion.
Petits Fours
Bryanston
www.petitsfours.co.za
Petits Fours is in the business of making dreams come true. With an amazing selection of cake fillings and creative flair, making your special day even more tasty is what they delight in. Some of their amazing fillings include chocolate top deck, red velvet, carrot, lemon and lime as well as strawberry and rose. They also specialize in French delicacies like macarons and macaron towers, madelines, eclairs, profiteroles, croquembouches and petit fours.
Sugar 'n Ice
Parkhurst
011 788 1202/3038 (Kate)
www.sugar-n-ice.co.za
Sugar 'n Ice have been in the business of producing wedding and special occasion cakes, both traditional to contemporary, since 1997. Every Sugar 'n Ice cake is handmade and professionally decorated using only the finest ingredients, from decadent sponges to rich, moist fruit cakes, all made to order according to your specifications. Due to popular demand, they also run classes on the art of making wedding cakes, birthday cakes and cupcakes.
Durban
Lemon Canary Bakery
Salt Rock
083 2932396 (Kerry Hedges)
www.lemoncanary.co.za
www.facebook.com/LemonCanaryBakery?ref=br_tf
Lemon Canary is a bespoke baking service born from a long love of baking, a desire to make beautiful handcrafted cakes, cupcakes and treats with emphasis on taste and baking seasonally and locally. In winter expect orange custard cake, spiced carrot and apple cakes as well as pear and almond tortes. In summer see berry and whipped cream cakes and banana and coconut cakes. Spring brings blooms and ruffle iced cakes with jasmine, crystallized rose petals and blossoms. Macadamia nuts and pecans come from a farm down the road and most of the fruit and flowers come from the Litchi Orchard farm where the bakery is situated.
Sugar Coated Cakes
Durban
074 176 9398 (Sasha)
www.sugarcoatedcakes.co.za
www.facebook.com/wed.cakes
Every aspect of your wedding day is important, however, choosing your cake is perhaps one of the most fun and enjoyable aspects, not to mention the tastiest. As the wedding day draws closer, the colours and theme that will run through your special day provide great inspiration for your cake. Sugar Coated Cakes will help you design a cake that will reflect you and your fiancé's personalities and tastes. You can also choose flowers and decorations to suit your colour scheme and even have the cake made to replicate the design of your wedding gown. Each cake is handcrafted using the finest ingredients ensuring that you have a show-stopping work of art that tastes as good as it looks.
Sweet Buttercup
Durban and Gauteng
072 414 7136 (Michele Rogers)
www.sweetbuttercup.co.za
Sweet Buttercup specialises in delicious treats for your special day. Light and fluffy traditional cupcakes topped with decadent icing. Simple cupcakes, cupcake tiers with a top cake or cupcake favours. Tasting sessions can be arranged on request. They also offer assistance with cupcake tier hire and wedding planning.
Zolitas Couture Cakes and Confectionery
Hilcrest
031 765 6174 (Zolita Harper)
www.zolita.co.za
From cupcakes to ten tier cakes, Zolitas Couture Cakes and Confectionery may just be able to make your wedding dream come true. Each cake is custom designed and baked from scratch with the best possible ingredients. Featuring regularly in My Wedding Day Magazine as well as an appearance on Top Billing, Zolitas have also won an international design award for they wedding cake creations.
We hope this resource of wedding cake suppliers, bakers and makers helps you to hunt down the perfect cake to celebrate your big day. If you haven't got a wedding registry yet, no worries folks, that's where we come in.
If you know of any top notch baking supremos, that should be on this wedding cakes suppliers list, or you happen to be one please drop us a line so we can add to this ever growing list of sugar coated goodness.