Celebrate your years of togetherness with these wedding anniversary gift ideas
In celebrating love and weddings, we wanted to compile a list of anniversary gift ideas that follow traditional as well as modern material inspirations. We also like to ponder the value in things and have given the meaning and symbolism behind each a little thought. We hope you find everything here that helps you celebrate togetherness, year after year.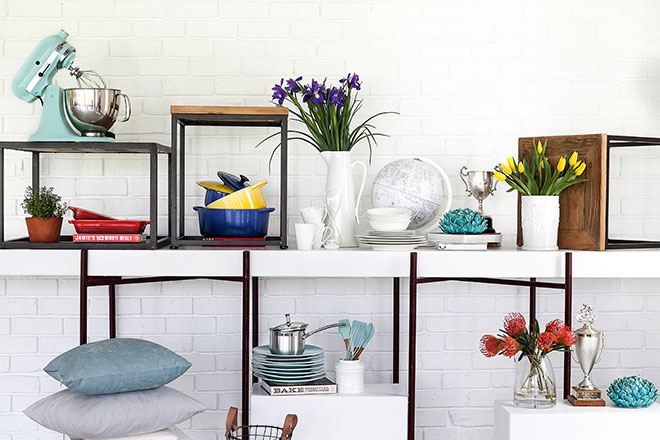 1st anniversary gift ideas  –  paper or clock
As your very first anniversary gift, paper, to us, is a gesture of communication, stories, words and commitments. The modern alternative, a clock, can inspire meaning of savouring the moments gone by and cherishing those to come.
2nd anniversary gift ideas  –  cotton or china
For your second anniversary celebrate the comfortable, the safe and the togetherness of cotton for a traditional gift inspiration. The modern spectrum inspires you with the delicacy of china.
3rd anniversary gift ideas  –  leather or crystal
Leather is a great gesture for the well worn and lasting moments in life. If you're on the modern end of the spectrum crystal is the inspiration. Lead free crystal is our way of staying in touch with tradition while embracing the clarity this anniversary brings to your relationship.
4th anniversary gift ideas  –  flowers or appliances
For four years together, a regular delivery of fresh, scented blooms will keep the air clear and spirits high. For the modern approach a reliable appliance that makes life a little easier is the way to go.
5th anniversary gift ideas  –  wood  or silverware
A gift of anything made from wood adds a grounded element to your home and marriage. Silverware lies on the modern end. Whether you interpret that as dining from a silver spoon or top quality cutlery is up to you.
6th anniversary gift ideas  –  iron  or wood
Iron can be many things, to us it's a symbol of enduring quality and something to keep by your side for many years to come. A modern anniversary gift of something wooden inspires thoughts of solidity, growth and warmth in the home.
7th anniversary git ideas  –  copper or brass
Copper casts our thoughts to all things soft and maleable. Being flexible toward the person in your life is a great way to lasting happiness. Modern gift inspiration offers brass as the guiding material which emphasises things that are firm and lasting.
8th anniversary gift ideas  –  bronze or lace
A gift of bronze brings our thoughts to what can come about when strengths are combined, also of warmth. Lace, the modern anniversary alternative speaks to us of intricacies, dedication and hard work.
9th anniversary gift ideas  –  pottery or willow
In celebrating 9 years together a gift of pottery is something raw, handmade and humble. Willow is a lovely representation of how being flexible and delicate can be equally resistant to external forces, bending rather than breaking.
10th anniversary gift ideas  –  tin or aluminium
As an anniversary gift, tin conjures notions of old fashioned lunch boxes, vintage vessels and quaint additions to kitchen. Every unique tin has a story and once contained food made with love. Aluminium is a gift filled with notions of reflection and abundance.
We hope this list of anniversary gift ideas inspires you year after year and adds meaning to each and every celebration of togetherness. For those of you close to tying the knot, check out our Online Wedding Registry and begin your relationship with Yuppiechef.