Two ways to decorate a simple naked cake
A birthday cake conjured in the kitchen of a friend or loved one always feels a little bit more special. They took some time out of their busy schedule to bake for you, to test the batter for you, to lick the icing bowl clean for you — ok so it wasn't exactly a sacrifice, but still. Having said that, you don't really want to be the one to offer to bake a cake and then stay up until all hours creating a fandangled tower of confection and fondant creatures. The solution? The naked cake. It's the quintessential real, homemade friends cake. And we have two ways you can decorate one.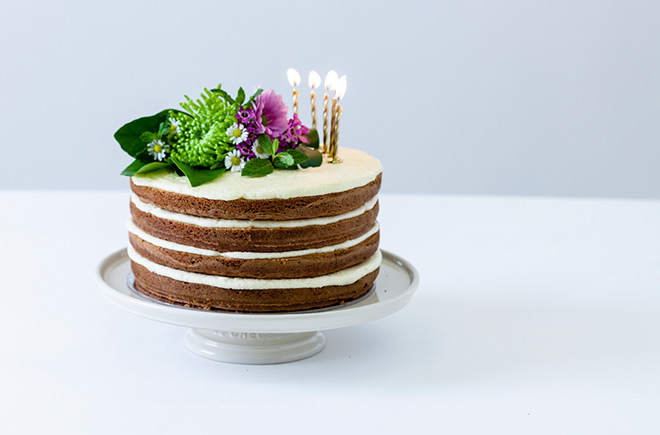 Ingredients:
For the cake
370 g butter (room temperature)
10 ml vanilla paste / essence
550 g caster sugar
6 eggs
160 ml full cream milk
450 g self-raising flour
90 g corn flour (Maizena)
For the icing
130 g butter (room temperature)
600 g icing sugar
5 ml vanilla paste / essence
20-40 ml full cream milk
Method:
1. Preheat the oven to 180°C (non fan assisted) and butter 2 x 9″ (23 cm) round non stick spring form cake tins.
2. In the bowl of a mixer combine all of the ingredients and beat on a very low speed until combined.
3. Once combined, increase speed to medium and beat for 3 minutes until batter is pale and fluffy.
4. Divide the batter equally between the two cake tins and spread evenly. It should be about 450 g into each tin. Drop the tin on the counter to settle the batter.
5. Bake for ± 25–30 min each, until golden brown and a wooden skewer comes out clean.
6. Let the cake cool for about 5–10 minutes in the pan before turning out onto a cooling rack.
To make the buttercream icing
1. Place butter and icing sugar in a mixing bowl and beat on the lowest speed until it just comes together (it will have a grainy texture).
2. Add 20 ml milk and vanilla paste or essence and beat until light and fluffy (approximately 3–5 minutes), adding more milk, 5 ml at a time, until you get the required texture.
To assemble the cake
1. Once your cakes have cooled completely, place them on the cake stand and, using a cutting wire or a long bread knife, cut in half horizontally, turning the revolving cake stand slowly to get an accurate cut. If your cake isn't level on top you can also cut the tops off.
2. Once you have all 4 tiers, set them aside and fit an icing piping bag with the widest plain round nozzle you have (we used the Cake Boss "1A" nozzle) and fill the bag ¾ full with icing.
3. Use a bit of icing to "glue" your cake to your cake stand or a 10″ (25 cm) cake board.
4. Place the cake stand or cake board on top of your revolving cake stand and apply icing to cake. The easiest way to get a professional finish is to start from the outer edge, working in a spiral towards the middle. * Don't pipe this too thickly as you don't want to run out of icing for the top.
5. Once you have iced the first layer, top it with the a layer of cake and continue icing until you have used all four layers.
6. Finish off with a final layer of icing on top.
7. If you want a super slick look you can smooth out the top layer by allowing the cake to set in the fridge for 20 minutes and then using baking paper and an icing smoother, gently applying pressure to smooth out the surface.
A delicate naked floral cake
To decorate, use your favourite fresh flowers (making sure to use floral tape on cut ends if you are inserting them into the cake). If you're worried—stick to using common edible garden flowers like nasturtiums, lavender, hibiscus, jasmine and most herb flowers.
A macaron and chuckle topped tower
To decorate, pipe a circle of about 10 cm in diameter in the centre of the cake making a tiny nest to place a mound of chocolate balls in. Using icing, glue macarons on their sides around the pile of chuckles, before finishing off with sparklers or candles.
May these easy but super fun cakes inspire you to bake for a friend. Especially on birthdays.