The real bread movement isn't dead: we have a good, slow chat with Jason Lilley of Jason Bakery
Jason Lilley is as crucial to the real bread scene in Cape Town as yeast is to making the dough rise. His knowledge and passion for pure bread is contagious and his cavalier honesty about the hidden health in eating real, honest bread (not government loaf) is inspiring. I caught up for coffee and a buttery slice of goodness. Sorry Banters.
On any given day the bustling corner on Bree Street, where Jason Bakery pumps out quality bread, glorious doughssant combos and perfectly micro-foamed flat whites, is a melting pot of true townies, hipper than hip tattooed creatives and a smidgen of families with mingling kids for good measure. I order one of those great looking coffees while I wait for Mr Bread himself to join me at an outside table. I'm here because I'm keen to hear the other side of the story. As a serious bread lover myself I want to know what a guy in the bread business thinks of the anti-carb movement.
While all this talk of Banting is literally painting the town a shade of 'real meal' red, sitting here at Jason's , an oasis of gluteny goodness, it becomes clear as day that there are definitely still people in this world who know how to get their carb-cake on and don't seem to give a hootin-toot about jumping on the bant-wagon. So what does Jason Lilley have to say?
How did you get into bread making?
I was Head Pastry Chef at Pezula Resort Hotel and Spa in Knysna.  That's where I met Markus from Il de Pain. He was a mentor to me and inspired me into the ways of artisanal baking.
It was there that I realised there's more to bread than just chucking ingredients together. It's about what flour you use – it's about the ingredients. The science.
I can see something about this gets you really excited. Tell me more about the science.
Well there's just so much to it. Wild yeast for example – I could talk for hours about Wild Yeast Starter (Levain) alone. It's a living organism and it takes on different qualities based on environment. That's why I can make the Bree Street sourdough and it's unique to this location, the altitude and humidity.
I use Henry (a porridgy dough like wild yeast starter) for virtually all my breads – he's the Mother Levain. He's come with me from Knysna and I feed and care for him like my child.
Wow that's a lot of passion and commitment
Real bread is passion. It's where I get my excitement from – pulling a perfect bread out of the oven. And each oven is different – it's like a woman; different curves, hot spots. With every oven you learn to bake again. It's a slow, nurtured and cared for process. And patience. None of this over the counter stuff.
Making real bread involves exact temperatures and long fermentation periods. The fermentation adds depth to flavour and dough strength. Take baguettes – you need to preferment it, make the final dough, ferment that, then divide and shape the loaves, prove them then bake them. It's a 2–3 day process. Ciabatta – a 3 day process.
Artisanal bread takes time.
Artisanal bread as opposed to?
Government loaf. Supermarket bread. They use a sourdough starter to increase shelf life. Those consumer loaves keep for a week. They put all sorts of junk in those breads to make them 'super'. That's why bread is getting such a bad rap.
Artisan Bakers use pre-ferments to increase shelf life of their breads. As the acidity lowers the pH the keeping quality improves naturally.
Wait hold up. What about that bread is giving bread a bad rap?
You won't believe me on this but many government loaf bread brands use an enzyme in their recipes, featured in such low percentages that they're not even required to list it in the label ingredients according to international food regulation law. This enzyme allows the gluten to be morphed into a super gluten – improving the longevity and volume of the bread. It turns gluten into the enzyme equivalent of Arnie, a highly indigestible substance. And that is what leads people to suffer from a gluten intolerance, because they can't digest these morphed, messed up glutens in the over the counter breads.
So you don't 'believe' in a gluten intolerance?
(Laughs – a lot) No, not really. I have this theory that a gluten intolerance is a designer disease. You're not 'cool' these days if you're not allergic to something. Obviously there are legitimate wheat allergies and intolerances and the odd case of childhood gluten intolerance, but with 90% of people it's just a fad…
So what do you do when you get a request for gluten free bread? Do you get them often?
I do every now and then, but by and large the people who come here, come to appreciate and enjoy real bread. They know what I stand for.
And if I do get a request I recommend they give the sourdough rye a go. It's the one to eat if you really are gluten intolerant. It contains so little gluten and the long fermentation period and acidity levels in the dough that it breaks down gluten, but not to the detriment of the bread. It's also a good low gi option.
You can also try the spelt loaf if you have a wheat allergy since it's wheat free, but not gluten free. Spelt is not as prolific as wheat and more hardy, so therefor expensive to mill, so you do pay 4 times more for it.
So for people who are under the assumption that they're 'gluten intolerant' but wish to give real bread a go?
You should be able to wean yourself onto real bread. Start with the sourdough and spelt in small amounts and give your body time to become accustomed to digesting and processing breads with normal glutens in them – not the 'super tough glutens' their bodies are so enraged against, understandably.
And for homemade breads? Is everything a 2–3 day commitment?
Nope, not all bread needs to be pre-fermented. Burger rolls are an easy recipe and take only 4 hours to from start to finish.
So where would you get good ingredients?
I rate Eureka mills. It's a high quality, organically grown, stoneground flour and I have it delivered by the ton.

Other tips for homemade breads?
Mixing times are very important with artisan breads because you can inadvertently mix out all the nutrients if you over knead it – so be careful with automated mixing machines. Where as if you make it by hand you can't really mix out the nutrients – you don't have the consistent power and endurance of a machine.
Let your bread cool after its baked. Only sh*t bread is eaten warm. You need to leave it to cool to allow the flavours to develop. Then reheat it a bit in the oven to refresh it.
For frozen bread, thaw at room temperature then lightly spritz with water and heat it in the oven to give the crust that delicious crispness of a fresh loaf.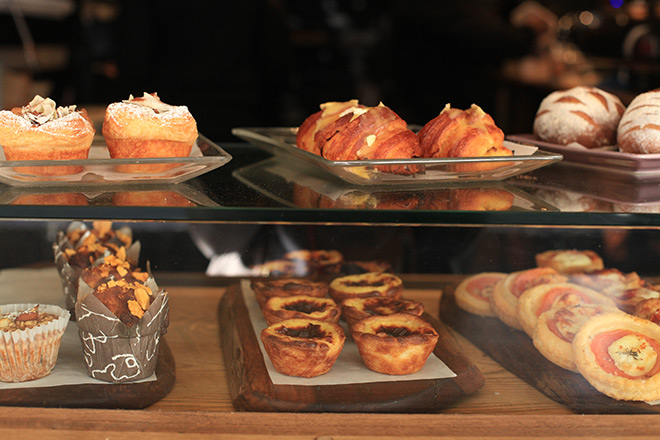 Well Cape Town for one is clearly heaving with real bread and pastry lovers. Your doughssants are a testament to that. Tell me how they came about.
Well you've heard of the cronut, originally from New York. That was invented by Dominique Ansel, who trademarked his creation. I tasted them and wasn't really blown away (largely due to how they were made) but everyone was following the trend and wanted to taste them. Rui from AND UNION asked me for one and so we experimented.
We use our exact croissant dough recipe with no alterations (unlike the cronut) and form it into doughnut shapes and then lightly coat and deep fry. Simple.
It became what it is today, right?  You do a different flavour every Saturday, with no repeats. Where do you get your inspiration from?
From pretty much everywhere, but often from our crazy childhoods. The chocolate bars, the memories, the breakfast cereals, even from pop icons. We've made a King of Rock doughssant in honour of Elvis with bacon, peanut butter and banana – let me tell you, that was a hit.
Favourite/ best filling combo so far?
Chocolate, salted caramel and Jack Daniels.
Jason goes on to talk about all the delicious things he gets to spend his days making and perfecting, immersing me further and further down the rabbit hole that is real bread. We talk for ages about the wicker baskets he uses for the rye bread, to the machines, the brioche butter rolls, Jessica the prodigal child of Henry, the 9 year old rye starter..
But what sinks in more concretely than any of the detail he so willingly and enthusiastically shares with me, like only an expert in his field can, is that the best possible reason to love real bread is that it comes from the heart of a man like this. It's not thoughtlessly churned out with the bottom line in mind. It's a carefully considered commitment to offering the world something that is better. It's his vocation. Tangibly so.
And that's the quality of bread I want to be eating, because gluten, wheat and hogs hair aside – I believe that something made with that much love – can only be good for you.
Do yourself a favour and head into town to Jason Bakery on Bree Street, try the pizzas served fresh from the hatch, the doughssants and the sourdough rye and get to know what the teeming artsy crowd on the curb already cherish and hold – like a good secret – close to their chest.
A big special thanks to Jason of Jason Bakery for giving us a buttery slice of his day
Jason Bakery
185 Bree Street, Cape Town
(021) 424-5644
orders@jasonbakery.com
email: captainbread@jasonbakery.com
Follow @captainbreadza for all the carby goodness and to stay in touch with the doughssant flavours as they come up.