The Great South African Cookbook and a venison bobotie by Annatjie Reynolds
Bringing people together to eat and enjoy a nourishing meal is at the heart of what we care about so deeply. This value is shared by the creators of The Great South African Cookbook, a collection of local recipes released in July to coincide with Nelson Mandela Day.
The book is a bounty of recipes and stories from around the country, told by a selection of 67 of South Africa's best chefs, home cooks, bakers, farmers, foragers and local food heroes. Each page pays homage to what makes our little tip of Africa the big, bold, flavourful food haven that it is.
This publication is special not only for its delicious dishes and how it reflects our land and its people, but because it is also a fundraising endeavour in partnership with the Nelson Mandela Foundation. Proceeds from sales go towards developing and supporting community food and agricultural projects to help fill the stomachs of those who don't have the security of knowing where their next meal will come from. Chief Executive of the foundation, Sello Hatang, says of the project: "For me, this book is about hope for what can be achieved both now and in the future, and, ultimately, about sharing and changing lives with food."
This sentiment is echoed in the care taken in putting together each page, and the stories of the local contributors. Northern Cape farmer, Annatjie Reynolds, shares a recipe for her venison bobotie, explaining why her corner of the country offers unique flavours: "Our Karoo cooking has the plaas touch. But it's also the balance of flavours that interests me. As the old saying goes: 'Food must never taste like rainwater.'"
Ingredients
Serves: 6 | Prep time: 20 minutes | Cook time: 25–30 minutes
20 ml oil
20 ml butter
1 kg minced venison
2 thick slices bread, crusts removed
250 ml (1 cup) full cream milk
2 onions, finely chopped
50 ml oil
3 large garlic cloves, finely chopped
25 mm piece fresh ginger, peeled and finely chopped (or 8 ml ground ginger)
25 ml fresh lemon juice
15 ml smooth apricot jam
45 ml mild curry powder (or according to taste)
1 large egg
100 ml cream
40 ml seedless raisins (optional)
60 ml blanched almonds (optional)
3 fresh lemon or bay leaves
Steamed rice, to serve
Stewed dried fruit, to serve
Topping
3 eggs, beaten
250 ml cream
2 ml ground turmeric
Method
1. Pre-heat the oven to 180°C. Heat the oil and butter and fry the meat until cooked and brown.
2. Soak the bread in the milk and mash with a fork.
3. Braise the onions in oil until soft and transparent (cover with a lid to prevent the onions from browning). Add the garlic and ginger, and stir fry briefly. Remove from heat and cool slightly, then stir in the lemon juice and apricot jam.
4. Sprinkle the curry powder over the onion mixture, return to medium heat and stir fry again. If it sticks to the pan, add small quantities of water.
5. Beat together the egg and cream, season with salt and pepper and combine with the meat and onion mixture, and bread. Mix lightly with a large fork.
6. Stir in the raisins and almonds, if using. Spoon into a greased ovenproof dish and push a few lemon or bay leaves into the mixture.
7. To make the topping, beat together the eggs, cream and turmeric and season with salt and pepper. Pour over the meat mixture in the ovenproof dish and bake for approximately 40 minutes, until the topping is brown and firm. Serve with rice and stewed dried fruit.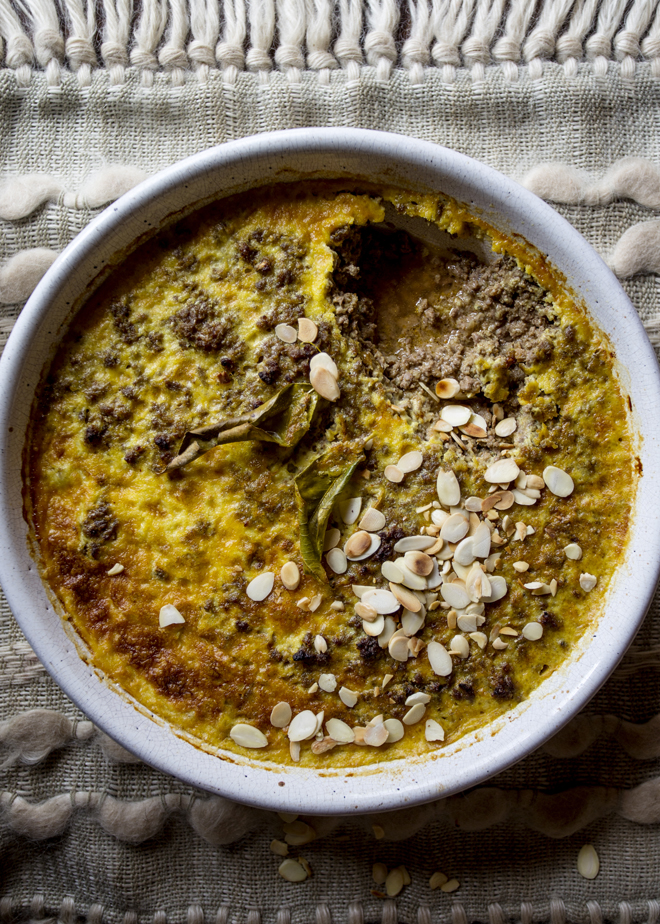 If venison bobotie sounds like just the type of meal you'd be keen to indulge in, get your copy of The Great South African Cookbook for many more local gems.
Styling by Jules Mercer and photography by Toby Murphy.