Tempura cauliflower: an impressive vegetarian Christmas main
Nothing is more satisfying than taking a seemingly simple ingredient and turning it into something so impressive that it becomes a family favourite. With this recipe, the crunchy tempura batter soaks up the festive flavours of a citrus, maple and thyme dressing and is topped off by a delicious crunch of caramelised nuts. This is great for a substantial side dish or the perfect main course for a vegetarian Christmas.
Ingredients:
Prep time: 20 min | Cooking time: 20 min | Serves: 4–6
For the tempura batter:
250 ml (1 cup) self-raising flour
125 ml (½ cup) cornflour
30 ml (2 Tbsp) cumin seeds
2.5 ml (½ tsp) sea salt
2.5 ml (½ tsp) ground black pepper
Approximately 350 ml soda water, ice cold
For the citrus dressing:
30 ml (2 Tbsp) maple syrup
15 ml (1 Tbsp) thyme
Juice of one orange
Zest of one orange
Juice of half a lemon
45 ml extra virgin olive oil
2.5 ml (½ tsp) sea salt
2.5 ml (½ tsp) ground black pepper
For the cauliflower and brittle:
1 medium to large head of cauliflower, sliced into 2cm thick rounds
Sunflower oil for frying
Store-bought cashew nut brittle to serve
Method:
1. To make the tempura batter, combine the self-raising flour, cornflour, cumin seeds, salt and pepper in a medium-sized mixing bowl. Make a well in the centre of the mixture and add the soda water, stirring continuously to avoid lumps forming.
2. Cover the mixture with plastic wrap and place in the fridge to rest.
3. While the batter is resting make the citrus dressing. Combine all the ingredients and set aside to infuse.
4. Now for the cauliflower. Place a medium-sized pot on the stove and fill half way up with sunflower oil. Put on a medium heat. Remove the batter from the fridge and check the consistency. It should be thick enough to leave a thick coating on a spoon, but not too thick that it doesn't run off the spoon. If the mixture is too thick, add soda as necessary.
5. Make sure the oil is hot enough by dropping a small amount of batter into it. It should bubble immediately. Dip a cauliflower round into the batter and then into the hot oil. Fry until crispy and golden brown. Remove from the oil and allow to drain on kitchen towel paper. Repeat with all the rounds.
Serve immediately, drizzled with the citrus dressing and crushed nut brittle.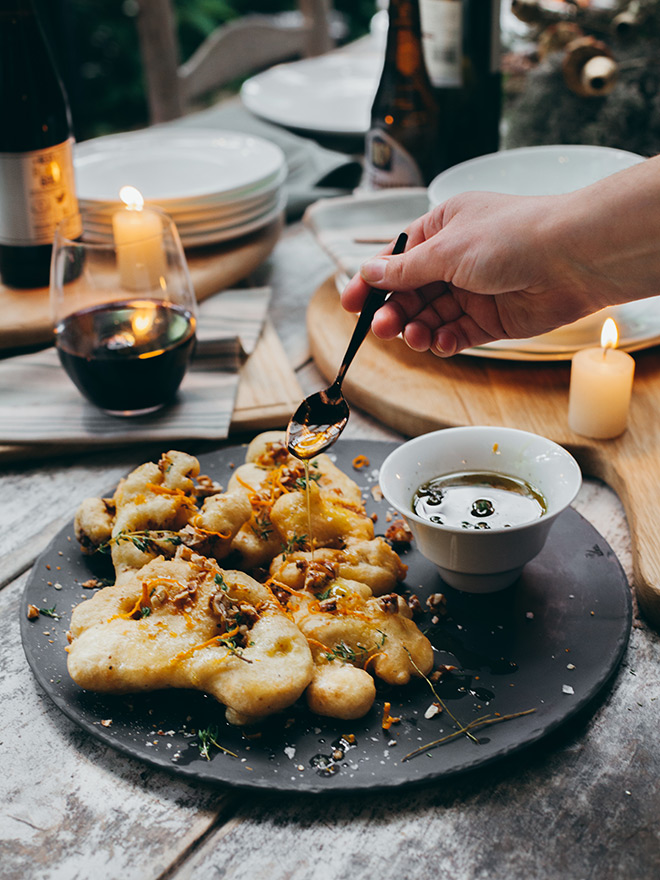 So often vegetarians can feel short-changed at Christmas. Not so with this recipe – just watch as it gets gobbled up by all the merry makers before it even hits the table!
Love this recipe and keen to find more? Sign up to our newsletter or join us on Instagram and many more will find their happy way to you.