Delicious stuffed lamb loin with a berry and chocolate sauce
Using chocolate to add a depth of flavour to savoury dishes is a trend we have been watching for a while now so we thought we'd give this stuffed lamb loin a bitter berry, chocolate spin. The result? A decadent feast: rich, not too sweet and the perfect partner for such a superb cut of meat. Give it a try this Easter weekend and we guarantee not everyone will be talking about the Easter egg hunt.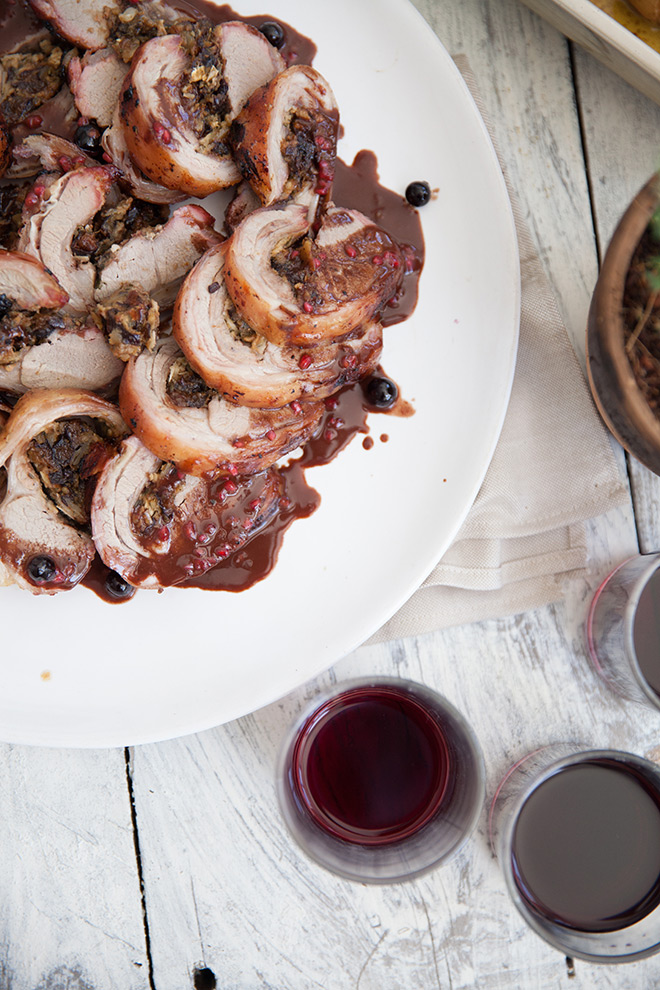 We served our lamb with chocolate sauce with carrot and beetroot salad and hasselback potatoes to round off the meal nicely.
Ingredients
Prep time: 25 min | Cooking time: 75 min | Serves: 6–8 people
For the stuffing:
30 ml Jimmy Public Extra Virgin Olive Oil
1 onion, chopped
2 cloves garlic, crushed
250 g pitted prunes, roughly chopped
100 g flaked almonds, toasted
5 g fresh rosemary, chopped
100 g breadcrumbs
Salt and pepper
For the roast:
3 kg deboned lamb loin
For the berry bitter chocolate sauce:
250 ml meat stock
250 ml red wine
2 rosemary stalks
2 Tbsp NOMU Decadent Hot Chocolate Pieces
50 g fresh blueberries
50 g fresh raspberries
Method
1. Preheat the oven to 200°C.
2. Start with your stuffing. Add the olive oil to a saucepan and the onions and garlic. Cook for 5 minutes until soft. Set aside to cool.
3. When the onion mix has cooled, add the prunes, almonds, rosemary, breadcrumbs, salt and pepper. Mix to combine well.
4. Open up the deboned lamb and spread the stuffing on the bottom half. Tie tightly with string to keep the stuffing intact. Place in a roasting dish and into a hot oven for 15 minutes.
5. After 15 minutes, turn the heat down to 180°C and cook for a further hour until golden but still slightly pink inside. Allow to sit covered for 10 minutes before carving.
6. While the meat is cooking, make the sauce. Pour the stock, red wine and rosemary into a small saucepan. Over medium heat, reduce the liquid by half. This should take roughly 20 minutes. While still hot, add the chocolate to thicken the sauce. Just before serving, add the fresh berries and gently squash them to release their sweet juice into the sauce.
When ready to serve, slice the lamb into even slices and place on a serving platter. Drizzle with the sauce and serve immediately.
If you're a keen cook, you might also like to sign up to one of our cooking courses and be sure to have your name down for a newsletters so that you are first to hear of new recipes, products and special offers.