Jolly Cookathon: stone fruits and berries amandine
Heard about the Jolly Cookathon? It's our latest community challenge, in celebration of eating together. Entries close on 20 November, get all the details and join in, jolly friend.
Franck Dangereux made his name as the Head Chef at La Colombe and established the restaurant's position on the prestigious World's 50 Best Restaurants list. He's now the chef behind Noordhoek's Foodbarn where he serves up unpretentious yet exquisite French food. His bona fide cooking values are imbued in this contribution to the Jolly Cookathon, stone fruits and berries amandine.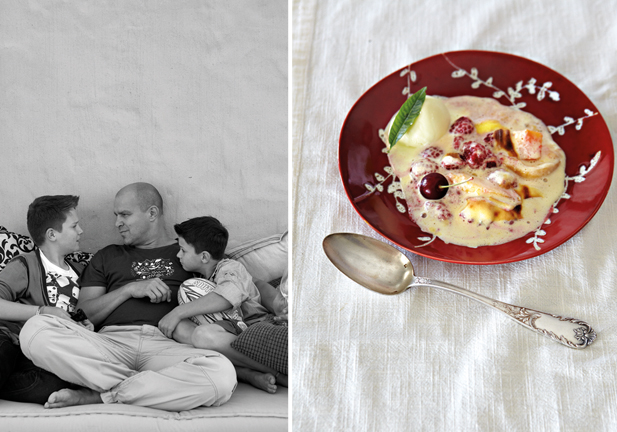 Ingredients for the amandine:
2 egg yolks
40g castor sugar
25g extremely finely ground almonds
100ml whipped cream
Method:
Cream the yolks and sugar together until smooth. Add the ground almonds and mix well before folding in the whipped cream. Keep aside.
Ingredients for the the fruity part:

1 ripe nectarine
1 ripe peach
2 ripe apricots
1 punnet strawberries
1 punnet raspberries
2 tablespoons treacle sugar
a little freshly chopped lemon verbena
Method:
Cut the stone fruit into quarters, removing the pips, and arrange them cut-side up on a heat-proof serving dish. Scatter over the berries. Sprinkle with the treacle sugar and some chopped lemon verbena (mint would also be good).
Now pour over the amandine mix and cook au gratin under the grill, making sure the dish isn't too near the element. Grill until golden brown – this will only take a few minutes.
Remove and serve with dollops of ice cream. I love lemon verbena ice cream, but you can use a good-quality vanilla.
Serves 4