Sticky toffee pudding
Want another great reason to love winter? Sticky toffee pudding. We all know there are few things better than something sticky and sweet. Hence, our fanfare (some may say obsession) over this sticky toffee goodness. The date-filled sponge is delectable, the sauce is a treat and together they are heavenly.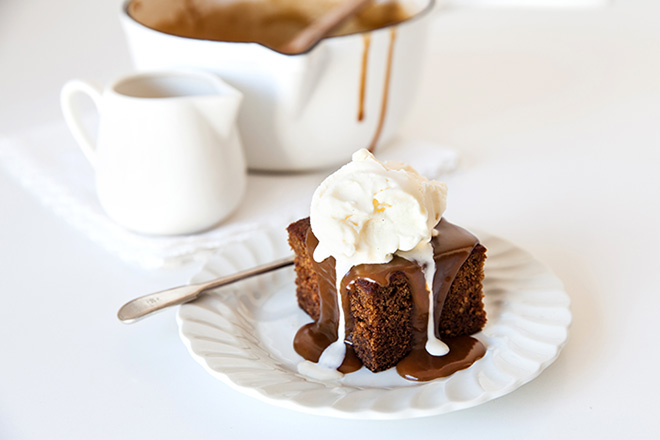 Ingredients:
Serves 6–8
For the pudding:
225 g whole Medjool dates, pitted and chopped
175 ml boiling water
1 tsp vanilla essence
1 tsp bicarbonate of soda
85 g butter, softened
140g treacle sugar
2 eggs
175 g self-raising flour, plus extra for greasing
100 ml milk
For the toffee sauce:
175 g Muscovado sugar
50 g butter, cut into pieces
250 ml double cream
1 Tbsp molasses treacle
Cream or ice cream, to serve (optional)
Method:
1. Heat oven to 180°C.
2. Soak the dates in boiling water for about 30 minutes until cool, then whiz in a food processor with the vanilla essence and bicarbonate of soda.
3. Beat the butter and sugar together in a large bowl for a few minutes until slightly creamy.
4. Add the eggs, one at a time, beating well between additions.
5. Using a large spatula, gently fold in one-third of the flour, then half the milk, being careful not to over mix. Repeat until all the flour and milk is finished.
6. Stir the date mixture into the batter until combined. Pour it into greased baking dish and bake for 25 – 30 minutes, until risen and firm.
7. Meanwhile, put the sugar and butter for the sauce in a medium saucepan with half the cream. Bring to the boil over a medium heat, stirring all the time, until the sugar has completely dissolved. Stir in the molasses treacle, turn up the heat slightly and let the mixture bubble away for 2-3 minutes until it is a rich toffee colour, stirring occasionally to make sure it doesn't burn.
8. Take the pan off the heat and beat in the rest of the cream. And you're done.
Serve the warm sticky toffee pudding with toffee sauce and cream or ice cream, or even custard. Anything really, as long as it's with this pudding.
This pudding couldn't be simpler or more tasty. Are you going to give it a bash?