What's on our Christmas gift lists?
With the time for thinking of others just around the corner, we couldn't help but spend a few wistful moments chatting about our own Christmas wish lists. So if you've ever found yourself wondering what the folk over at Yuppiechef would wish for from Santa, what with all their insider info and all that, then you're in luck. Here's the gold on what makes our eyes light up this season.
For keen cooks
1. Le Creuset Stoneware Oil and Vinegar Carafes
I really want one of those Le Creuset Stoneware Oil and Vinegar Carafes, they drizzle a lovely thin stream which is great for salads, because who wants soup when you want salad? – Carryn, our own brand product administrator
2. Wusthof Chef's Knife
I'd love to own a new Wusthof Chef's Knife. After seeing what's possible with these beauties (during Cooking School shoots), I'm convinced that it's the difference between an average and amazing cooking experience! – Beth, our Online Cooking School co-ordinator
3. Cuisipro Deluxe Grater
I really want the little Cuisipro Deluxe Grater, because it's perfect for when you just need a little bit of parmesan or citrus zest in a recipe. – Andrea, our photographer
4. Kitchen Craft Blow Torch
A Kitchen Craft Blow Torch, because I have such a sweet tooth and I want to be able to make my own crème brûlée. – Michael, our resident customer service guy
For the master chefs
1. Le Creuset, 3 Ply Stainless Steel Roaster
I would love love love the Le Creuset, 3 Ply Stainless Steel Roaster. I know it's a heavy investment but I'm over going through inferior quality roasting pans and this one just roasts meat and veg like the business. – Ann, our customer service night owl
2. Le Creuset Cast Iron Griddle Pan
Well, I really want a Le Creuset Cast Iron Griddle Pan because from what I have seen, there's no better way to cook meat on the stove and these provide even heat distribution. – Tim, our digital marketing and customer acquisition man
3. Le Creuset 16cm Saucepan
Coffee, no an Espro, ooh no what I really want is a Le Creuset 16cm Saucepan because I want to expand my collection and I'm just a cast iron kind of man. – Steve, our IT supremo
For entertainers
1. Magimix Food Processor
It would go down as the best Christmas in history if a Magimix Food Processor were under the tree. The Magimix is just the best investment you could make for your kitchen kit. I have the same Magimix that my parents were given as a wedding gift 30 years ago and it still works like a charm, but it would be nice to upgrade to a slightly lighter (the old one weighs a ton!) and sleeker version.  – Renée, our online visual merchandiser
2. Earthfire Pizza Oven
An Earthfire Pizza Oven for sure, I really enjoy making pizzas at home and those made in ovens just don't taste quite as good. – Jamie, our marketing machine
3. Rancillio Coffee Maker
I've got so used to our epic Rancillio Coffee Maker here at work that I would love to have one at home to look forward to the weekends as much I look forward to going to work. – Noel, our operations engineer
For the home
1. Micro Memory Pillows
A pillow, I want one of these Micro Memory Pillows. Have you felt it? It feels amazing and I could probably dream forever on those. – Clarence, one of our receiving warehouse champs
2. Laid Back Company Oak Box Wine Rack
I would love to have the Laid Back Company Oak Box Wine Rack. I love having a few bottles that are ready to pop open when friends come over for dinner, and this design is just beautiful for display in my home! – Margot, our stock controller
3. Microdry Memory Foam Bath Mat
The Microdry Memory Foam Bath Mat, it's unbelievably soft and it just feels amazing to stand on. – Mike, one of our warehouse heroes
4. Chantal Quilted Cotton Throw
Oh, that's easy, the Chantal Quilted Cotton Throw because I absolutely love the feel of crisp, beautiful linens and this one is just lovely. – Fran, our Africa expansion gal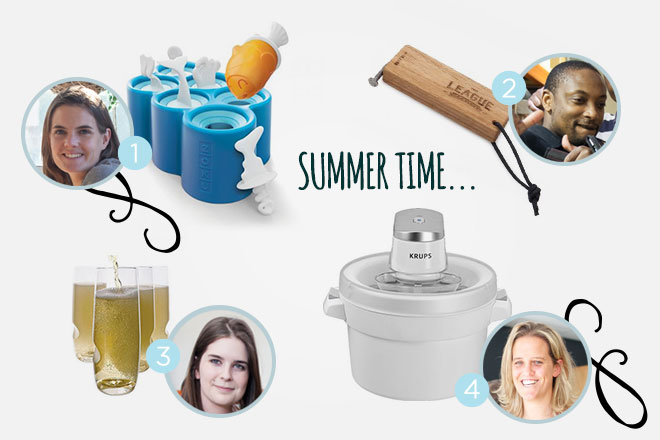 For summer time
1. Zoku Slow Pops
Any of the Zoku Slow Pops, because they are great for the kids and easy entertainment on hot summer days when their friends come over – Lisa our content strategist guru
2. League of Beers Bottle Opener
I would like the League of Beers Bottle Opener, it's so cool how it is made with a nail and just branded. – Brighton, our beer and gift hampers warehouse legend
3. Govino Champagne Glasses
I would love the Govino Champagne Glasses because we go on picnics often and it's great to not have to wrap your glasses up. – Caroline, our project assistant champ
4. Krups Ice Cream Maker
Krups! The ice cream maker is my one big wish, because all I want is to be able to make G&T sorbets whenever I want. – Romy, our html, css champ
The all round favourite
This was the one kitchen tool that took the big fat cake. Turns out everybody wants a Nutribullet High Speed Blender for Christmas. Here's what they're saying.
The Nutribullet is top of my wish list! I am really enjoying coming up with different smoothie combinations at the moment, they are a great summer breakfast option. I like the Nutribullet because it blends in seconds, is easy to clean and is pretty compact so it doesn't take up much space (a win for small kitchens). I also like that it comes with a few jugs, one of which has a handle so you can blend and transport in the same cup". – Angela, our product copywriter
"The Nutribullet High Speed Blender. It's the best thing under the sun. It's fast and super-efficient." – Tania, our in-house Aramex customer service 
So there you have it, folks. This is what we're wishing for this year. Head to our online Christmas shop to get heaps more inspiration on the perfect gifts for your friends and family this season.
If you haven't yet heard of Bella the festive pup and her exciting Christmas give away competition, head this way and you may just win what you've been wishing for.