Spinach and ricotta gnocchi with puttanesca sauce
I've made pasta at home before – in great big sheets, dried over an arrangement of precariously hung coat hangers (because that's what you do when you have no pasta drying stand). But not gnocchi – it seemed too fancy, until this light, summery gnocchi recipe came along.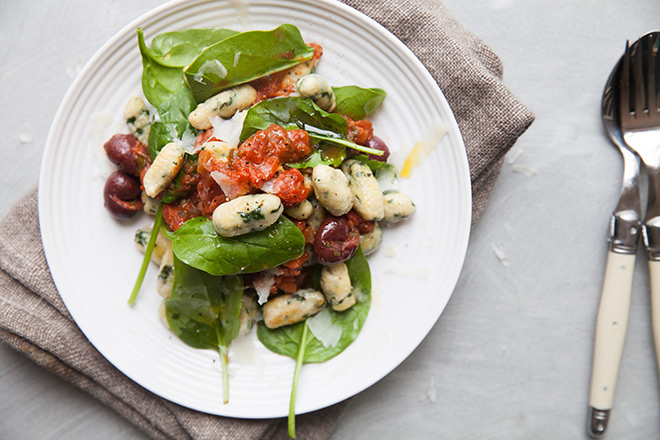 Did you know that gnocchi is in fact the plural of these little, doughy dumplings, the name of the dish? Now I want to make it just so that I can say, "Here – taste my very first gnoccho", which is, as I've learnt, the singular.
Ingredients:
Serves 6
For the gnocchi
100 g spinach, wilted
250 g ricotta
60 ml self-raising flour
125 ml cake flour
2.5 ml  (½ tsp) salt
2.5 ml (½ tsp) ground pepper
125 ml finely grated parmesan
Freshly ground salt and pepper
Zest of 1 lemon
2 egg yolks
For the puttanesca sauce
1 onion, finely chopped
3 cloves garlic, crushed
2.5 ml (½ tsp) dried chilli flakes
8 anchovies
125 ml dry white wine or vegetable stock
1 x 400 g tin chopped tomatoes
100 g black olives, drained,  pips removed and halved
30 ml capers, chopped
Handful of basil, finely chopped
Handful of flat leaf parsley, finely chopped
Freshly ground salt and pepper to taste
To serve
15 ml butter
100 g fresh baby spinach leaves
Parmesan shavings
Olive oil
Method:
1. First make the gnocchi. Place the wilted spinach in a sieve or colander and squeeze as much liquid out as possible, then finely chop.
2. Place all the ingredients for the gnocchi, including the spinach into a large bowl and gently mix together until it comes together to form a soft dough. Divide the dough into 4 pieces and, on a floured surface and with floured hands, roll into 3 cm thick sausages and cut into even 2 cm pieces.
3. Press each piece gently with the back of a fork or roll each piece onto a gnocchi board.
4. Sprinkle lightly with flour and chill in the fridge until ready to use.
5. Next start the puttanesca sauce. In a large frying pan, fry the onion, garlic, chilli and anchovies until softened and fragrant and the anchovies have disintegrated.
6. Add the wine and simmer until reduced to one third of the amount. Add the tomatoes and simmer for 15 minutes.
7. While this is on the simmer you can start to cook your gnocchi. Bring a large pot of salted water to the boil. Boil gnocchi for about 2 minutes (they will rise to the surface when they are cooked) and remove with a slotted spoon. Set aside.
8. Now add the olives, capers and herbs to your puttanesca sauce and simmer for a further 5 minutes. Season to taste.
To serve your gnocchi, heat a little butter in a large pan and fry the gnocchi in batches just to get some colour on them.
Arrange the gnocchi and baby spinach onto serving plates and spoon over a generous amount of puttanesca sauce. Top with parmesan shavings and drizzle with olive oil.
For a slightly different serving variation on the gnocchi try this:
Heat 50 g butter and 2 cloves crushed garlic in a large frying pan until foaming. Fry the gnocchi in the butter and serve immediately with a squeeze of lemon, fresh baby spinach and parmesan shavings.
Has this recipe inspired you to delve into the lands of homemade gnocchi? Sign up to our newsletter for more recipes and inspiration on cooking creatively and getting out of your food comfort zone. All recipes are free and delicious.