Grilled calamari and chorizo skewers
With National Braai Day just around the corner, it's finally time to get out the skewers. Kebabs or sosaties are a tasty, versatile finger food and ideal for entertaining the crowds. This summery recipe for flame grilled calamari and chorizo is easily enjoyed with good company, tzatziki and white wine.
Ingredients:
400g calamari, cleaned and sliced
¼ cup olive oil, plus more for grilling
4 garlic cloves, chopped
2 red chillies, chopped
Zest of 1 lemon
2 Tbsp fresh thyme, chopped
20cm Chorizo, thickly sliced and halved
Salt and pepper, to taste
Skewers – if wood, soaked in water overnight to prevent them from burning on the grill
Lemon wedges, for garnish
Tzatziki to serve
Oregano to serve
Method:
1. Rinse the calamari and pat dry. Marinate with olive oil, garlic, chilli, lemon zest and thyme and refrigerate for an hour.
2. Thread the skewer with calamari and chorizo pieces. Put the skewers on a platter and pour over any leftover marinade.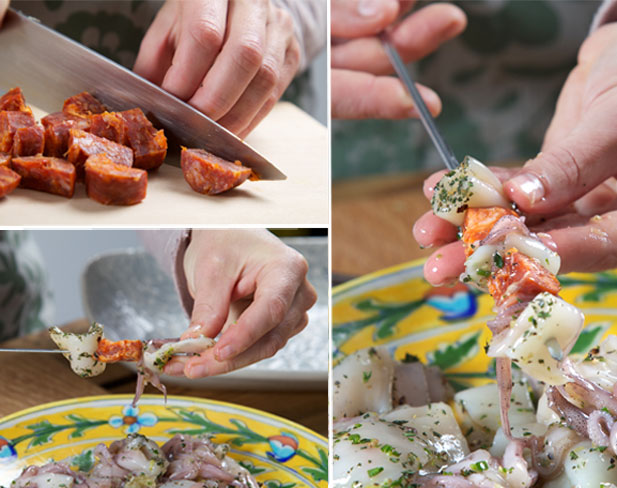 3. When your braai is ready (hot but not too hot) lightly oil the grill and cook the skewers for 3 minutes on each side but no longer or they will be dry and tough.
4. To serve, put the cooked skewers onto a platter. Garnish with fresh oregano leaves, fresh lemon wedges and tzatziki dip on the side.
For more springtime recipe inspiration, you might like to give these three bruschetta recipes a try.