Saving avo's, one half at a time.
Do you eat avocados? If you don't, maybe you should.
A little bit of trivia.
Avocados only grow in subtropical or tropical climates. They have a higher fat content that most other fruit, contain more potassium than bananas and are rich in vitamin B and E. In Brazil, Indonesia and Vietnam they are often used for milkshakes, which might sounds strange but is actually delicious (Cafe Royale in Long Street, Cape Town makes a mean avocado shake).
This is a picture of the first transcontinental, international air shipment of avocados (from Los Angeles to Toronto in 1927).
Raise your hand if you are glad people started shipping avos around the world.
A problem facing all humans who sometimes don't eat whole avocados at a time, is that they go brown. Fortunately there exists a kitchen tool to help with this. Here's a review of the Kitchencraft Avo Saver, from Candice Winterboer
"Avo's have to be one of my favourite foods, in fact they constitute an entire food group in my opinion since I end up adding sliced, diced and mashed avo to just about every dish I cook, or bake!  I only have one problem – I very rarely eat an entire avo all at once, with half being about my recommended daily allowance (self-imposed), so I almost always have half an avo which needs to be stored for the next day. Enter the Avo Saver!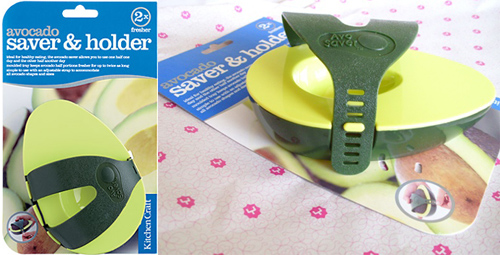 While munching on mashed avo on toast and browsing through the Yuppiechef site I almost broke down and cried with relief when I came across this little gadget, because as much as I love avo, I hate the fact that it turns black once you've cut into it.
Research into why the half which you leave in the fridge suddenly turns into something which looks like it's 3 months past its sell-by date, simply states that avo flesh goes black when it's exposed to air, something which is very difficult to avoid when you have half an avo which will only be eaten the next day, lying there.  Being exposed.  To air.
But, with the avo saver (which incidentally looks just like an avo without a pip) you take the half which you are saving for tomorrow, complete with its pip still in place.  You pop it onto the avo saver securing the strap over the rounded side, making sure the fleshy area is held face down, and your avo is rescued from becoming unsightly and discoloured.
I think this little gem might actually join the ranks of the Fridge Monkey in my gift giving books because it is totally affordable and would bring joy to multitudes of avo lovers around South Africa."
Cool. Thanks for the review, Candice.