Quick and aromatic red pepper pesto
A glistening film of olive oil coats the dollop of pesto lying on the linguini noodles, the roasted red pepper chunks enveloped in a profusion of garlic. Such a simple meal with the promise of so much flavour, and made with a
pestle and mortar
it will captivate all your senses. As a dip for starters or dolloped onto hot pasta, this red pesto is reliably delicious, every time.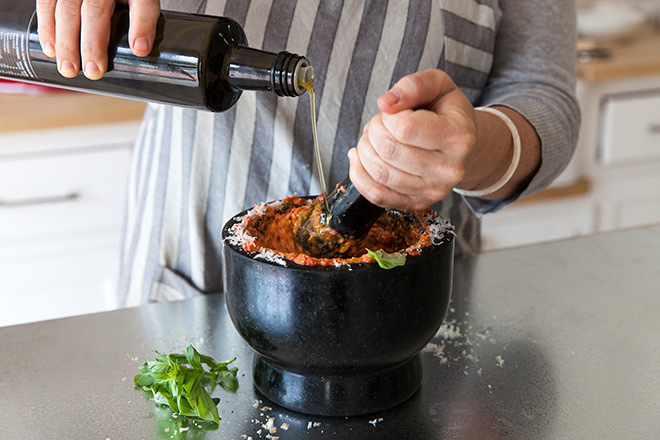 This pesto carries a wonderful homely, Mediterranean flavour with only a subtle hint of pepper lingering as you swallow. A memory just brief enough to make you instantly hungry for the second bite. Here's how to make it.
Ingredients:
Makes: about 1 small jar, (enough for 3–4 pasta servings) | Prep: 15 minutes  | Cook time: 15 mins
4 red peppers, cut in half
1 fat garlic clove, crushed
1 tsp salt
½ tsp black pepper
50g raw macadamia nuts, chopped roughly
100ml olive oil
50g parmesan cheese, grated
Method:
1. Preheat the grill to the highest setting. Place the peppers on a roasting tray cut side down and sprinkle with a little salt and olive oil.
2. Grill for about 10–12 minutes, you want the skins to blacken and burst. The peppers will cook slightly too.
3. Then, remove the peppers from the oven and place them in a bowl, covering with clingfilm whilst still hot, so they can steam in their skins.
4. Once cooled, remove the skins and seeds and chop the peppers up finely.
5. In the pestle and mortar, grind the garlic with the salt and pepper to soften and release the juices.
6. Add the chopped macadamias and continue to bash and grind to a smooth, almost paste-like consistency.
7. Next add in the chopped, roasted peppers, olive oil and parmesan.
8. By using a quick muddling action (grinding in a circular motion), stir this into a thick and chunky paste.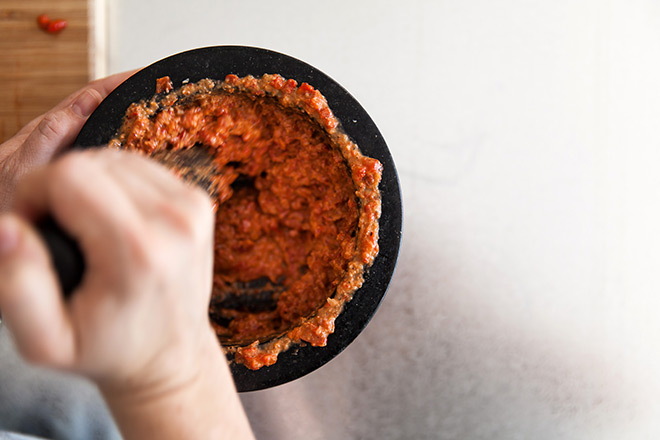 You can either serve your roasted red pepper pesto directly out of your pestle and mortar or enjoy it spooned over some fresh pasta.
This pesto can keep in a small jar in the fridge for up to 1 week. Enjoy.