Quinoa with roasted root vegetables
Quinoa has become a game changer in the realm of salads. This
tasty, wholesome seed
 may look like couscous but it has a much richer, nuttier flavour and many more health benefits. So, if you are looking for a nutritious and hearty lunch or dinner, try our winter-inspired quinoa salad with roasted root veggies.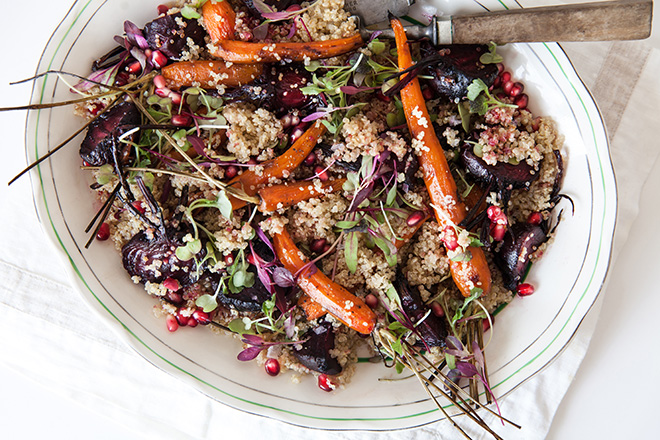 Ingredients:
For the salad:
4 beetroots, quartered
2 bunches baby carrots, trimmed, peeled
2 Tbsp olive oil
2 Tbsp honey
1 cup quinoa
2 cups water (for cooking the quinoa)
¼ cup of water (for roasting the veggies)
For the dressing:
¼ cup olive oil
1 Tbsp honey
1 Tbsp lemon juice and zest
1 Tbsp mustard
2 Tbsp basil pesto
1 tsp garlic, chopped
1 tsp chilli, chopped
¼ cup baby basil leaves
¼ cup pomegranate seeds
Method:
1. Preheat the oven to 200°C.
2. Place the beetroots and carrots in a large roasting pan. Drizzle with oil and honey, then pour over the quarter cup of water. Season with salt and pepper. Roast for 40 minutes, turning halfway, or until the vegetables are tender and golden.
3. Place the quinoa and 2 cups of cold water in a medium saucepan over a high heat. Bring to the boil. Reduce heat to medium and simmer, covered, for 15 minutes or until the water is absorbed and the quinoa is tender. Transfer to a large plate to cool.
4. For the dressing, mix the olive oil, honey, lemon juice, mustard, pesto, garlic and chilli. Toss through the cooled quinoa. Spoon onto a platter and scatter with roasted vegetables, baby basil leaves and pomegranate seeds.
Serve your quinoa salad at room temperature for the most delicious result. The pomegranate seeds really make this dish pop.
We hope this recipe has made quinoa seem a little less daunting, it is definitely worth giving a go.