Quinoa and maple roasted butternut salad
This salad is a feast of flavours and textures. Not only is this combination absolutely delicious, it is also filled with nutrients. Quinoa is packed with vitamins and has many health benefits, as well as it being a perfect carb substitute to leave you feeling full and content. Fragrant spices like cumin and coriander compliment the sticky-sweet, maple roasted butternut and a hint of chilli flakes gives this dish the gentle bite that it needs. Layer the butternut and quinoa in glass jars with crispy bacon and crunchy rocket, and you have a winning meal that is perfect for picnics, lunches or as a summer snack.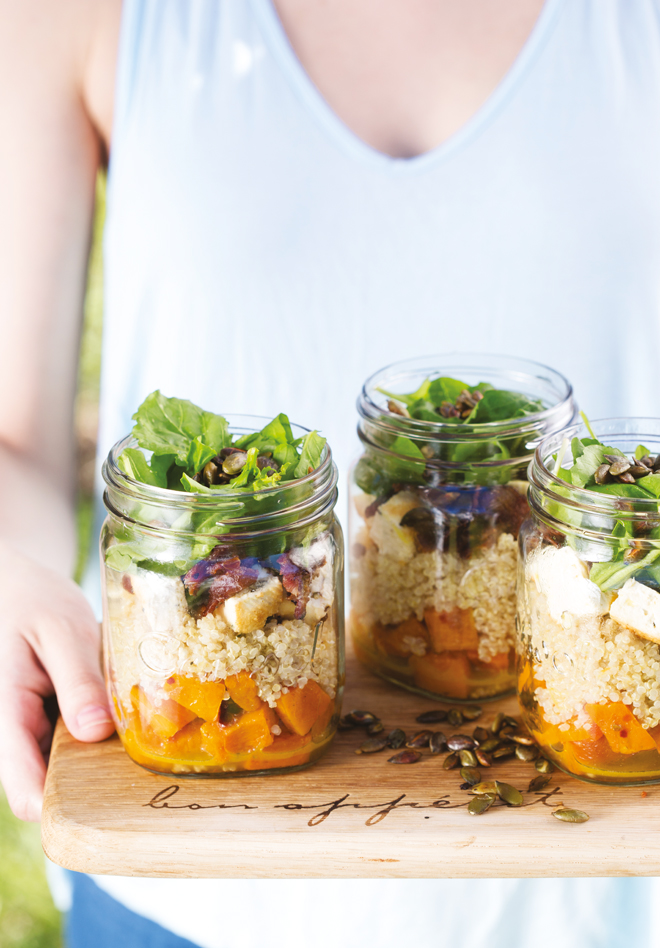 Ingredients
Makes 6 salad jars
For the salad
600g butternut, cubed
1 g (½ tsp) ground cumin
1 g (½ tsp) ground coriander
1 g (½ tsp) dried chilli flakes
30 ml (2 Tbsp) olive oil
30 ml (1 Tbsp) maple syrup
seasoning
3 rounds feta
10 rashers streaky bacon
170 g (1 cup) uncooked quinoa
1 packet rocket
65 g (½ cup) pumpkin seeds, toasted

For the dressing
30 ml (2 Tbsp) orange juice
30 ml (2 Tbsp) white wine vinegar
80 ml (¹⁄3 cup) olive oil
seasoning
Method
1. Preheat the oven to 180 ºC.
2. Toss the cubed butternut with the spices, chilli, olive oil and maple syrup. Season to taste. Spread it out on a baking tray lined with parchment paper.
3. Place the 3 feta rounds on the tray next to the butternut; cube the cheese but keep the round shape. Roast for 20 minutes or until the butternut is cooked through. Remove the feta if it has turned brown before the butternut is cooked. Set aside.
4. Brush the bacon with maple syrup and cook under the grill until crispy. Set aside to cool and break into pieces.
5. Cook the quinoa according to instructions on the packet and leave to cool.
6. Layer butternut, quinoa, feta and bacon in glass jars. Whisk the dressing ingredients together and drizzle over the salad. Top with rocket and pumpkins seeds.
Swap the formal table setting for soft grass and dappled sunshine this season, this salad will be perfect.