Puff pastry hearts with white chocolate crème
Ishay Govender is the leading lady behind the gorgeous 
The Food and the Fabulous
. She's also the proud new owner of an
Empire Red KitchenAid Stand Mixer
and, lucky for us, invited us to her gorgeous home in Cape Town to see the beauty in action.
Ishay started her blog a mere 10 months ago, in the middle of the night, when she tapped out her first post. Since then, she's been living her Grandmother's philosophy of loving people through food and shares both recipes that come from her heart (check out her
spinach pappardelle with aubergine and smoked chilli
) and some of her jet-setting adventures (she recently met one of the greatest chefs worldwide, 
Ferran Adrià
).
If that's not enough, she's also a commercial lawyer, a Barcelona Football fan deluxe and, closer to home, a passionate supporter of the South African NGO, Help2Read. By recruiting an army of volunteers to spend time with underprivileged kids teaching them to read, Help2Read is giving many kids in our own communities the gift of literacy. It's easy to be part of this great initiative, just find out more on their website and give them a ring.
We loved our morning with Ishay, particularly watching the Empire Red queen of the kitchen in action, and here's what we made, puff pastry hearts with white chocolate crème. Download print-friendly version.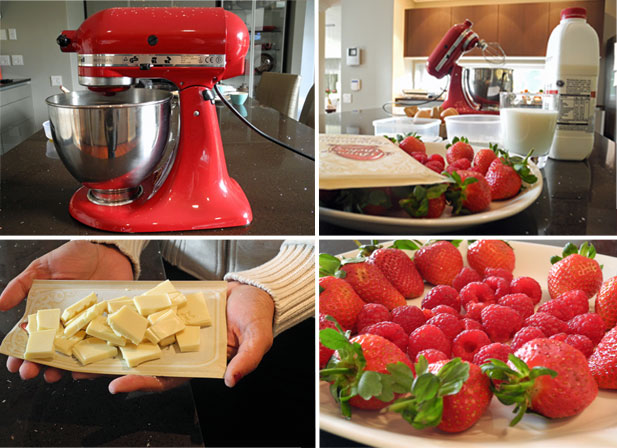 Ingredients:
1 roll butter puff pastry (you can use puff pastry but you'll notice a huge difference with butter puff)
Raspberries, sliced strawberries or any seasonal fruit
Icing sugar to dust
1 egg yolk to brush over the hearts
Ingredients for the white chocolate crème:
5 egg yolks
4 tbsp sugar
375 ml  milk (1 1/2 cups)
3 tbsp flour
2 ml salt
150g white chocolate (you can use dark or milk chocolate if you prefer)
Method:
1. Pre-heat your oven to 210⁰C.
2. Cut the butter puff pastry into heart shapes with a cookie cutter, brush a little egg wash over the top of each heart and bake for 10 minutes at 210⁰C and then for another 8 minutes at 180⁰C or according to package instructions. Once your hearts are fully puffed up, leave to cool completely on a wire rack. In the meantime, you can make your white chocolate crème.

3. To make the  white chocolate crème you will need a handheld mixer or stand mixer. In a medium sized bowl (use the KitchenAid bowl if you have one), add 1/3 cup or 80ml of milk, the flour and salt and mix well with a spatula. It's best to do this bit by hand as your mixer's blades may not reach the bottom.
4. Add the egg yolks and 3 tbsp sugar to the bowl. Use your mixer to whisk until the mixture is pale yellow. (I use a medium to high speed and it takes approximately 15 minutes).

5. Whilst your stand mixer is working its magic, heat the remaining milk in a heavy-bottomed saucepan on medium heat. Add the remaining 1 tbsp sugar and allow to dissolve.
6. Add the chocolate to the milk and lower the heat. Whisk as the chocolate melts.
7. Add 1/4 of the milk mixture to your yolk mixture in the bowl – this prevents your yolks scrambling and then immediately transfer the contents of the bowl to the pot on the stove. Whisk over medium heat until the mixture comes to the boil. It will thicken quickly and thicken further on cooling.

8. Allow the crème to cool overnight or for at least 2 hours before using.
9. To assemble your hearts, cut each puffed heart in half and spread a layer of cooled crème on the bottom layer. Arrange raspberries or sliced strawberries and add the top layer and a dusting of icing sugar.
We heart Ishay.
For more inspiration, check out her dark chocolate crème mille feuille.