Pistachio honeycomb ice cream: your new favourite scoop
Crunchy nuts, crisp honeycomb enrobed in chocolate, and smooth, silky ice cream with a hint of vanilla – these three elements are surely the ultimate flavour combination for an indulgent summer dessert. This pistachio honeycomb ice cream is the perfect accompaniment to a hot summer's day, or as a post-meal treat shared with friends outdoors on a warm evening. We recommend serving generous scoops in a waffle cone – there is no better vehicle for a delicious frozen dessert.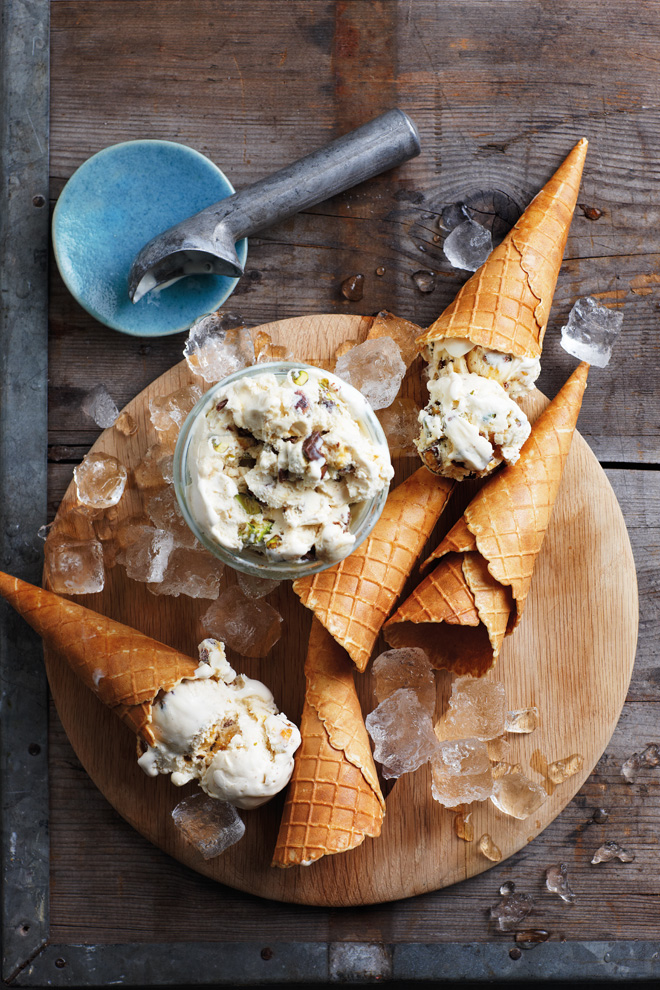 The recipe is fairly simple and fuss free, whether you have an ice cream maker or not. It'll take longer without a machine, but the flavour will be worth the wait.
Ingredients
1 vanilla pod, split lengthways
500ml full cream milk
500ml cream (250ml reserved later for whipping)
110g castor sugar
6 egg yolks
1 Tbsp cornflour
150g shelled pistachio nuts, roughly chopped
3 large (80g) Crunchie chocolate bars, chopped into roughly 1cm pieces
Method:
1. Scrape out the seeds from the vanilla pod and place in a saucepan with the milk and half the cream. Heat until the liquid is just about to boil (don't let it boil as this will burn the milk).
2. Place the egg yolks, cornflour and sugar in a large mixing bowl. Beat until the egg yolks are a pale golden colour – the beater should leave a ribbon trail in the mixture.
3. Slowly pour in the hot milk and cream mixture, whisking all the time. Mix until blended well. Pour this mixture back into the pot and heat for a few minutes, stirring consistently until the custard has thickened slightly.
4. Pour the custard into a large bowl and cover with cling film to prevent a skin forming. Allow the mixture to cool completely.
5. Whip the remaining cream until thick. Fold this into the chilled custard and place in the freezer (or an ice cream maker like the Magimix Gelato Expert Ice Cream & Sorbet Maker).
6. If you're not using an ice cream maker, allow to freeze for a few hours, then remove and mash up with a fork or palette knife to disperse the ice crystals.
7. Return and freeze for a few hours to solidify completely.
8. Toast the pistachio nuts in a pan over medium heat for a few minutes or until fragrant and toasty.
9. Take your ice cream out the freezer and allow it soften.
10. Leave the nuts to cool, then stir the nuts and the Crunchie pieces through the softened ice cream.
11. Freeze until ready to serve, preferably scooped into waffle cones.
If you are looking for a little more ice cream inspiration, you can browse some of our favourites flavours in our stash of ice cream recipes.