Picnic perfect: no-bake cheesecake
Have you ever fancied being the envy of fellow picnickers? With sunnier days ahead, it's time to up your picnic game and here's the perfect recipe to do just that.
This no-bake cheesecake is a doddle to prepare and the cute packaging is guaranteed to impress.
Ingredients (serves 4):
200g plain cream cheese
5 tbsp caster sugar
2 tbsp lemon juice
120ml fresh cream, whipped
2 cups of granola (I used vanilla and seed granola)
250g fresh strawberries, sliced
These Kitchen Craft Home Made jars work well. You can find them on Yuppiechef.
Method:
1. Fill the bottom of each jar with a layer of granola (approximately 125ml each).
2. Place the cream cheese, lemon juice and caster sugar in a bowl and beat together.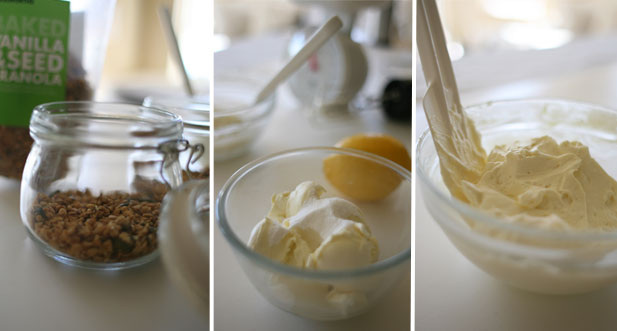 3. Using a metal spoon, fold the whipped cream into the cream cheese mixture. Divide this mixture between the jars, spreading evenly over the granola base (I used a mini spatula for this).

4. Seal the jars and place in the freezer for 1 hour to set.
5. Remove from the freezer and top with the sliced strawberries (or any fruit topping of your choice).

6. Keep in the fridge until you're ready to pack your picnic basket!

And there we have it. Download print-friendly version. Keep your eyes peeled on Spatula for more picnic favourites this week.
What's your winning picnic dish?
Thanks to Karen Grandcourt for the pics.