A perfect slow-cooked lamb knuckle curry
When leaves start falling and thoughts of cosying up around a fire top the weekend to-do list, thoughts of comfort food also start rumbling in your soul. So, it's a great time for the
slow-cooker
to take centre stage in your kitchen. With a few recipes like this one for slow-cooked lamb curry– you'll be all set to tumble in a few ingredients, invite a generous glass of wine into your life and enjoy the slow unfolding of an evening wafting with languid conversation and the aromas of a gently simmering dinner.
Ingredients
Prep time: 2 hours and 20 min | Cooking time: 2 hours | Serves: 4
4 cloves garlic
5 ml cumin seeds
10 ml coriander seeds
10 ml paprika
1 fresh chilli, chopped
5 ml fine lime zest
5 ml garam masala (you could even learn how to make your own mix of garam masala)
800 g lamb knuckles
20 ml oil
2 onions, chopped
1 tin chopped tomatoes
1 cardamom pod
2 cloves
¾ cup natural yoghurt
To serve
Poppadoms
Greek yoghurt
1 handful chopped coriander
Method
1. In a pestle and mortar, grind up the garlic, cumin seeds, coriander seeds, paprika, chilli, lime zest and garam masala. Once you've got a fine texture, rub the spice mix onto the meat and allow to rest for 2 hours in the refrigerator.
2. Next, heat the oil in a large, heavy-based pot. Brown the meat in small batches, taking care not to burn the spices. Once all the meat has been browned, return the meat to the pot.
3. Add the onions and sauté until glossy. Add the tomatoes, cardamom, cloves and natural yoghurt. Season with salt and black pepper. Add enough water to cover the meat and place into a slow cooker for about 2 hours or until the meat is super soft. Add a little more water if needed during the cooking time.
4. Serve with natural yoghurt, coriander and poppadoms.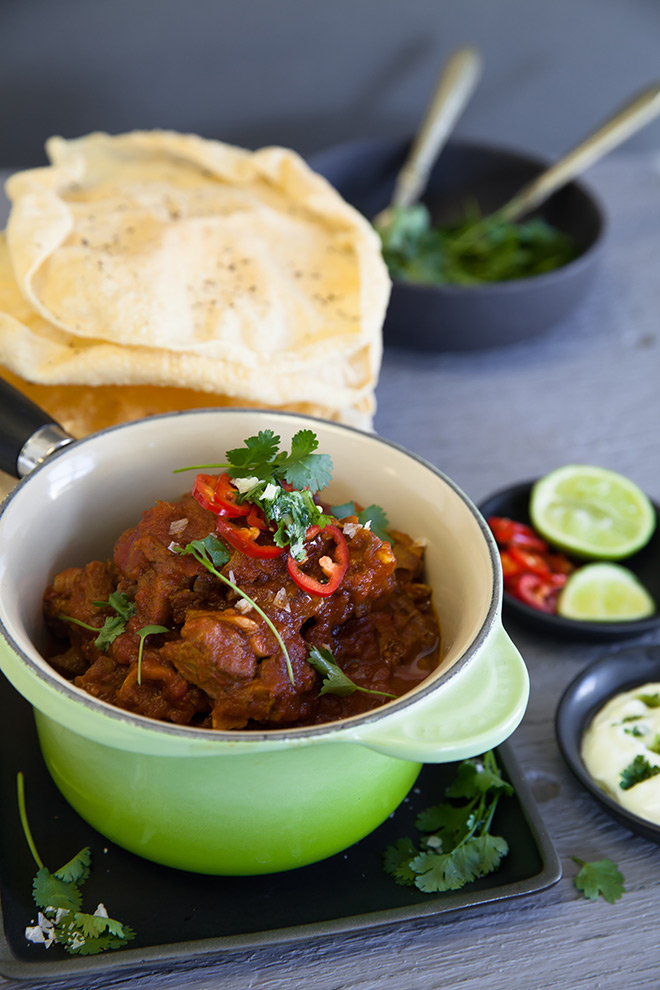 If you love your curry you might like to make this homemade curry paste and sign up for our newsletters while you're at it, so we can send more delicious recipes like this one to make their happy way to you.