The perfect Christmas gift ideas for absolutely everyone
Everyone should have a mission in life and this festive season, our mission is to spare you the queues and parking lots. Not only do we have some
great gift ideas for just about everyone
, but we'll deliver them to your door. And since shopping online is so easy (and we deliver to eight countries internationally), you can spoil your family near and far from just about anywhere. So, pour yourself a glass of bubbles and let's get a head start on Christmas this year.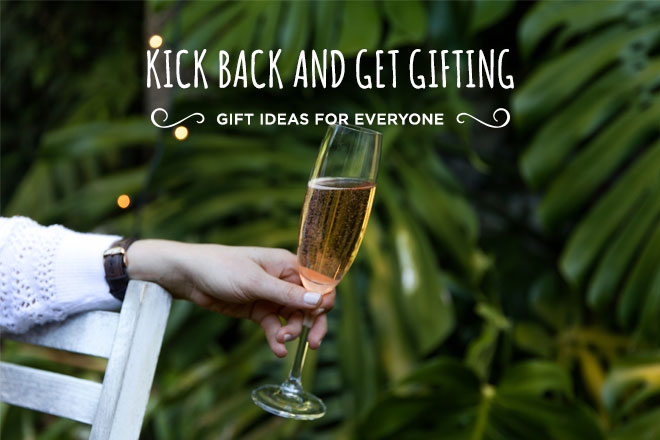 Gifts for women
For the lady in your life, whether they bake, entertain or love to cook up a storm, this is our top selection of gifts for women. We have it on good authority that anything that is either super useful or lovely to look at (and preferably both) is bound to leave you smothered in kisses.
1. Eva Solo Hurricane Lamp
2. KitchenAid Artisan Stand Mixer
3. Eva Solo Deli Jar
4. Jamie's Comfort Food
5. Mervyn Gers Serving Bowl Large
6. Le Creuset Stoneware Batter Bowl
7. Yuppiechef Luxury Coffee Gift Box
8. Le Creuset Whistling Stovetop Kettle
9. Sagaform Oil and Vinegar Bottles with Oak Stopper
Want to explore some more? Head this way to find more gift ideas for the ladies in your life.
Gifts for men
When it comes to impressing the gents, we've got all the tools to make them feel really chuffed. From heavy duty kitchenware and nifty braai gadgets, to top end tipple and outdoor friendly toys, we just know that dads, hubbies and uncles alike are definitely going to enjoy boasting to their mates about what they got for Christmas this year.
1. League of Beers Monthly Mixed Case
2. Bohemia Crystal Lara Pilsner Glasses
3. Yuppiechef The Ultimate Braai Gift Box
4. Wüsthof 2 Stage Knife Sharpener
5. Master Class Granite Pestle and Mortar
6. The Compass Box Great King Street Artists Blend Scotch Whisky
7. Tonglite Illuminate Braai Tongs
8. Cape Vineyard Oval Biltong Board
9. Stanley Classic Hammertone Vacuum Flasks with Handle
10. Le Creuset Square Reversible Grill
Want to load up on more gift ideas for the guys? Here's our gifting category for guys – feast your eyes on these.
Gifts for grandparents
Gran and gramps deserve to be spoilt as much as is humanly possible – mostly just for putting up with all the family shenanigans and telling the best stories at dinner time. Instead of cluttering up their homes with paisley print mugs, tartan scarves and more doilies, here's a selection of treats that will really make their festive season.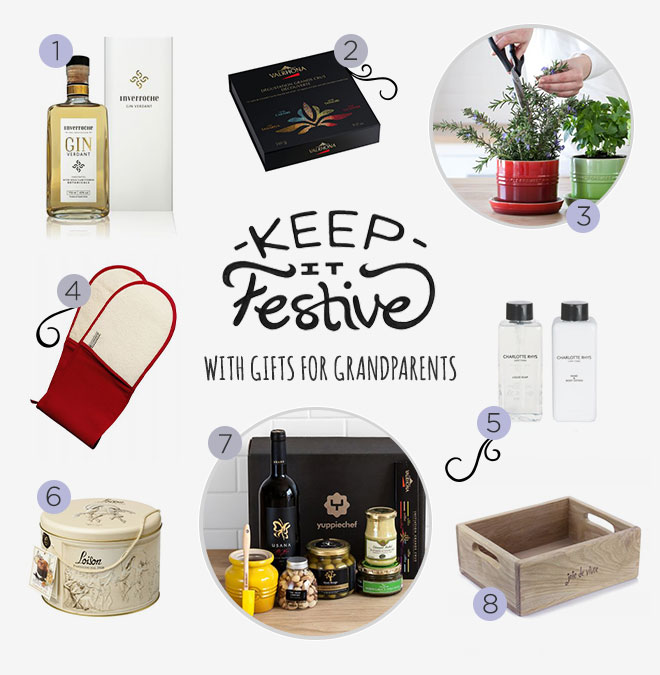 1. Inverroche Verdant Gin
2. Valrhona Grands Crus Chocolate Gift Box
3. Le Creuset Herb Planter
4. Le Creuset Double Oven Glove
5. Charlotte Rhys Cleanse Liquid Soap and Hand Lotion Gift Set
6. Loison Panettone Classic Top Line
7. Yuppiechef Something Savoury Gift Box
8. Joie de Vivre Handy Box
Not gran or gramps' glass of scotch? Check out our festive gift ideas for more Christmas shopping inspiration.
Gifts for older kids
Teenagers might be glued to their phones twenty four seven, but don't for one minute think, they're not über clued up on what's good when it comes to gifts. And while they probably test your patience all year round, there's not much better than seeing their faces light up at Christmas. Here are some epic gifts they're sure to jump up and down over (and then text their bff's about).
1. Lékué Silicone Waffle Moulds Set
2. Klean Kanteen Classic with Poly Loop Sports Cap
3. Yuppiechef Letterpress Cookie Set
4. Zoku Slush and Milkshake Maker
5. Severin Popcorn Maker
6. Moleskine Softcover Journal
7. Sweet Treats Cooking Course with Sarah Graham
8. Diablo Jaffle Iron
Want more gifting inspiration for the youngsters in the family? We've got loads more gift ideas for the whole family.
Gifts for little kids
If it's shiny, squeaky or covered in sugar, the tiny humans are bound to be happy campers this Christmas. Here's our selection of cool kiddies gear to spoil them with this year.
1. The Treat Company Alphabet Sweeties Jar
2. Zoku Mini Slow Pop Freezer Moulds
3. Alessi Cico Egg Cup and Spoon
4. Chef'n 3D Cake Creature Mould
5. Kitchen Craft Kitsch'n'fun Sound Magnet Clips
6. Kitchen Craft Kids Cutlery Set
7. Kitchen Craft Pig Snout Plastic Kiddies Cup
8. Kitchen Craft Let's Make Sandwich Crust Cutters
Think your minichefs are a little harder to please? We've got a caboodle more gift ideas for minichefs over here.
Here's hoping that you still have some champers left in the bottle to toast yourself on doing such an excellent job on the Christmas gift shopping this year.
Check out our extensive Christmas shop for a stash of more gift ideas. Our Online Cooking School offers many great cooking courses, which make pretty neat gifts too.
See? We told you shopping didn't have to leave your feet achey. Hoorah.