Easy pear puff pastry tarts
Teatimes are celebrated here at Yuppiechef HQ, especially when our teacups are accompanied by tasty treats and good conversation. With the help of our handy friend, the
Gefu Spirelli
, we made these easy pear puff pastry tarts. Yes, a pear can quickly be turned into fruity spirals, leaving you more time for chatting and enjoying these little autumn strudels.
Ingredients (serves 4):
1/2 roll ready-made puff pastry, defrosted
4-5 under-ripe crunchy pears
2 Tbsp Chaloner Apricot Jam
2 Tbsp brown sugar
A sprinkling of cinnamon
Flour for dusting your countertop
To serve:
2 Tbsp AB Cinnamon Syrup
250ml cream
A dusting of icing sugar
Equipment:
Gefu Spirelli
Round cutter set
Baking tray
Method:
1. Preheat your oven to 180°C, on thermofan. If you don't have the thermo fan function – preheat your oven to 200°C.
2. Sprinkle your surface with flour, roll out the puff pastry and cut into 10cm circles. Then place these in the fridge to keep cool.
3. Break the stalk off the pear and insert the long end of the pear into the Gefu Spirelli and begin twisting. When it feels as if it can twist no more, remove the pear and chop the already spiralled section off. Trim the pear down slightly so that it fits into the Spirelli and twist some more julienne spirals out.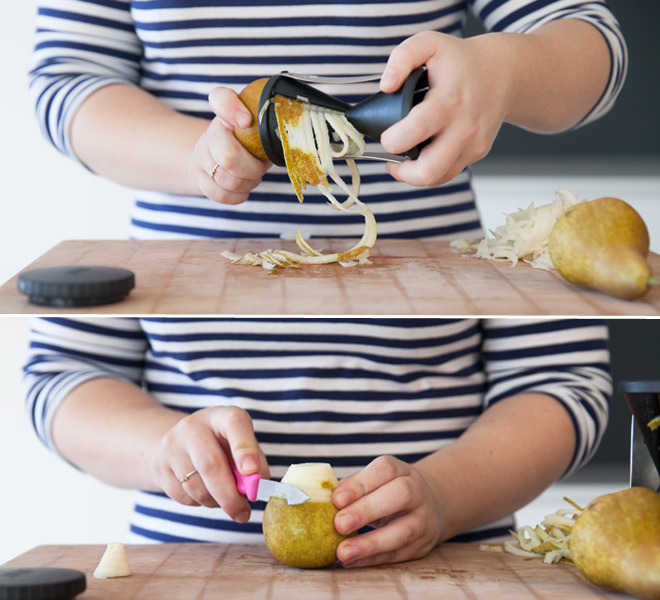 4. Warm your jam of choice for a couple of seconds to soften and spread evenly onto your pastry rounds – we used Chaloner Apricot Jam. Once done, transfer these to your baking tray.
5. Using a fork, twist up some pear spirals as you would a bowl of pasta. Layer your pear swirls onto the jam, flatten out lightly and sprinkle with brown sugar and a dash of cinnamon.
6. Bake in the oven for 10-15 minutes until golden.
7. Whip the cream with some cinnamon syrup.
8. Sprinkle some icing sugar over your pear puff pastry tarts and serve hot or cold with the cinnamon cream.
Now all you need to do is pair these little treasures with a warm cup of chai or perhaps a rooibos cappuccino and you'll be pear-fectly set for cozy catch-ups. You won't even notice the leaves changing colour outside.
Head this way to learn more tips and tricks on using the Gefu Spirelli and check out the full range of Chaloner Jams. They're a real treat.
The Spirelli is no longer available in black. Available colours: red, yellow, green and blue.