Heard of Ottolenghi?
It was food that brought Sami Tamimi and Yotam Ottolenghi together. Born on either side of Jerusalem, these two have brought their passion for their cultural food heritage and created a world-famous deli in London's Notting Hill,
Ottolenghi
. In celebration of the latest of their three cookbooks,
Jerusalem
, here's a short digest of 
all their books
. Read on, folks.
Ottolenghi, 2008
Ottolenghi, the cookbook, came into existence when Sami Tamimi and Yotam Ottolenghi eventually gave in to the constant clamouring of their restaurant customers, who kept asking how all the dishes were made. It took the pair a year of tasting and testing to put the recipe collection together. The recipes are based on the most popular dishes in the shop and maintain the unfussiness and honesty that makes the restaurant so popular.
Plenty, 2010
Although Yotam Ottolenghi is by no means a vegetarian – the Guardian's Weekend magazine was so impressed with the food at Ottolenghi that they approached him to write a column on inspiring vegetarian meals called the Modern Vegetarian. Plenty is inspired by this column and provides page after page of beautifully photographed, achievable and delicious vegetable-based recipes. Plenty won the Observer Food Monthly's and the Galaxy book awards for 2011.
Jerusalem, 2012
Have you ever idly started browsing through a cookbook and after only a few minutes found nearly every page marked with a post-it note as there are so many recipes you want to make? Jerusalem is one of those books. It's a coffee table book; an insight into the city of Jerusalem as well as an anthology of beautifully-crafted and inspiring recipes. You'll want to start cooking immediately. Sami Tamimi and Yotam Ottolenghi were both born in Jerusalem in 1968. Sami on the Arab East side and Yotam on the Jewish West side. In Jerusalem they explore the flavours of their childhood and the city itself.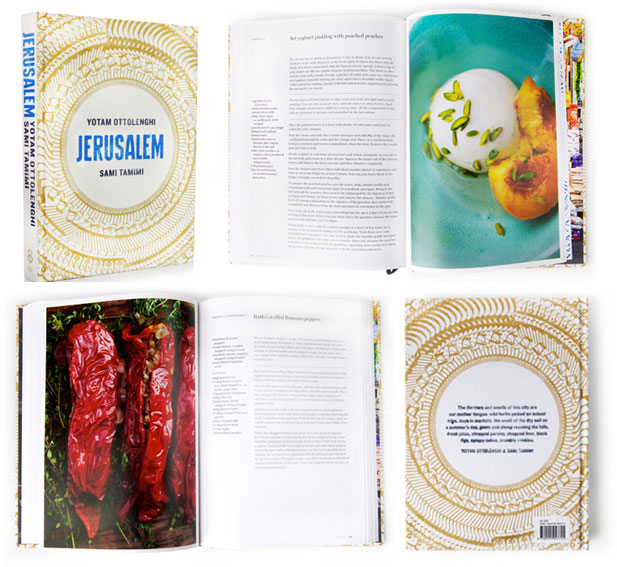 Is your mouth watering yet? Check out these books on Yuppiechef or head this way for some recipes from the latest book, Jerusalem.