Make a Nutella pancake cake
A jar of Nutella probably doesn't last very long in many households. And if a teaspoon of the good stuff can cure a broken heart, can you imagine the secret powers this Nutella pancake cake holds? If you love the hazelnutty goodness as much as we do, then this pancake cake will go down a treat.
Makes 1 extra large cake. Halve ingredients for a smaller version.
Ingredients:
5 batches of classic pancakes (about 40–50 individual pancakes)
2 cups Nutella, softened
For the chocolate ganache
300g dark chocolate, chopped
300ml cream
Ferrero Rocher chocolate balls, to serve
Method:
1. Make approximately 45–50 pancakes using this basic pancake recipe. Allow them to cool completely before arranging the cake.
2. While the pancakes are cooling, make the chocolate ganache. Place the cream in a saucepan over medium heat. When it starts to boil, remove the saucepan and stir in the chocolate until it has melted and the mixture is smooth. Let it sit for 5 minutes to thicken slightly.
3. Set aside ½ cup of the chocolate ganache to pour over the top of the cake. Assemble the cake by layering the pancakes and alternating between softened Nutella and chocolate ganache between each layer. A good spatula comes in really handy.

4. Garnish with chopped Ferrero Rochers and allow to rest for an hour or two before serving.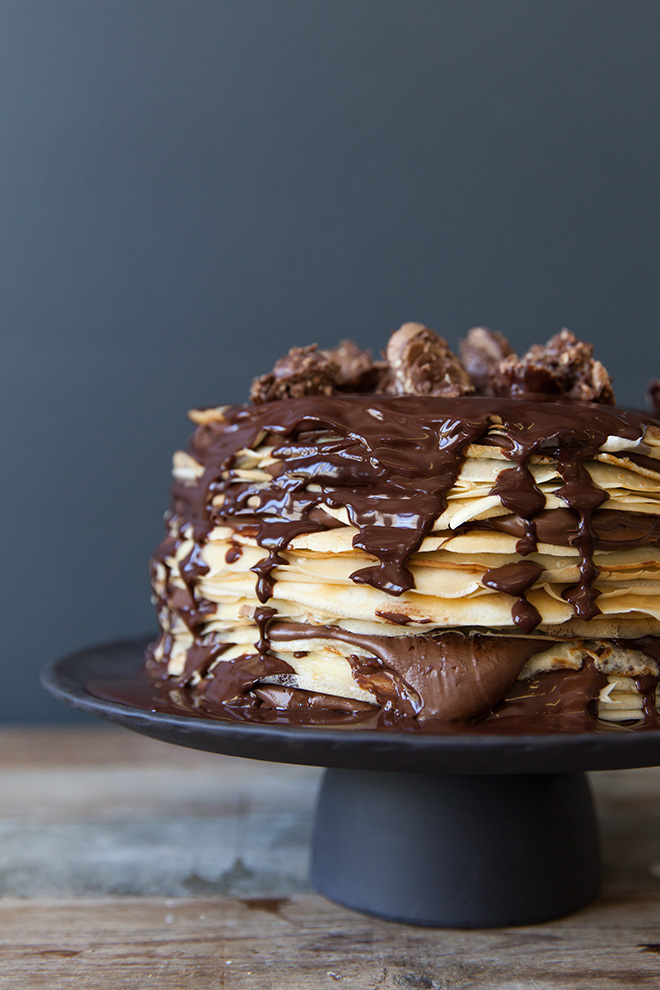 Warning. This is a slightly labour intensive cake to make, but we guarantee eyebrows will pop, tongues will loll and plates will be licked clean, which is always worth the effort, eh? Plus, by pancake 49 you will be a seasoned pro.