New Registry Collections to suit your lifestyle
From the beginning we've wanted to make
setting up a Wedding Registry
not only easy but also a whole lot of fun. From the basics to epicurean style, our first
Starter Collections
allowed you to imagine your kitchen and home in full colour. Now, with our new collections you can imagine your married life(style) with just as much finely crafted curation. Entertainer? Outdoorsi? Add the life you want to your registry with these new collections.

Bar Classics
Always wanted a beautifully kitted out bar to whip up pink cocktails for all your friends and entertain until the cows come home? Our Bar Classics Collection is already perfectly curated for the Brian Flanagan in you. Just browse through and add the shiny shenanigans you like, or if you're really keen on Cocktail, add the whole toot and let your guest decide.
Luxurious Linens
Waking up in a bed and breakfast set up doesn't have to be reserved for honeymoons and anniversaries. You can turn your very own bedroom into an oasis of dreams with this lovely selection of linens, pillows and comforters from the Luxurious Linens Collection. Simply add the entire collection or trim to suit your boudoir.
The Top 30
This is a nifty collection to consider if you're unsure of what goes down well on a wedding registry. This starter collection is a show case of the top 30 kitchen and home goodies that make their way onto many a registry time and again. There's a reason people love the classics and now there's no keeping it secret.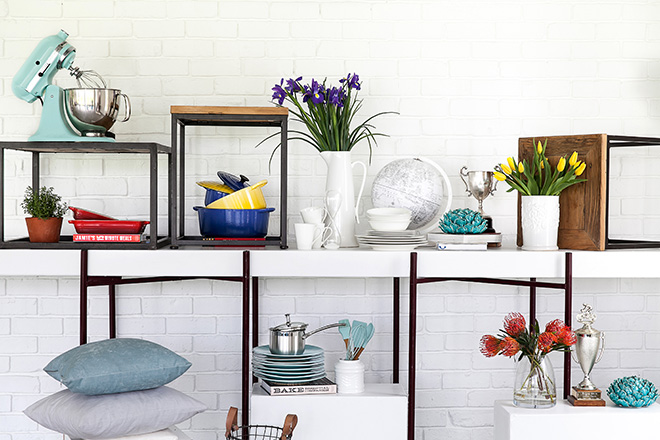 Make Room for the Groom
Because we know how men are about their territories, man cave and all that jazz, we've crafted a rather manly collection just for the stubbly faced hubby to be. From braai tools to epic beers, this collection for the groom will get him just as excited about the whole registry spiel. It's a guy thing.
Easy Outdoor Entertaining
If you and your partner are fans of long, lazy al fresco lunches, then this collection will suit your lifestyle choice perfectly. Everything you need to enjoy eating and cooking amid the sounds of nature is in this bright and breezy Easy Outdoor Entertaining Collection. Just click to add and you're half way there.
We hope our new and shiny collections inspire you and give you a curated vision for the look and feel you want in your kitchen or the lifestyle you're yearning for in married life. Play with it and have fun. Saying "I do" is only the beginning.