Minichefs: perfect cupcakes
When baking with little folk, cupcakes are a wonderful endeavor to embark on. But, rather than trying to co-ordinate multiple pairs of busy hands around one central mixing bowl, consider splitting your ingredients up and letting each of your minichefs man their own mixing station. Cupcakes one by one. This simple cupcake recipe includes measurements for making 12 cupcakes individually or as one big batch of batter. Simpler, better but probably not faster.
Ages of children involved: 2 – 8 years
Time taken: 40 min prep; 15 min baking; 10 min cooling
Suitable for 2 to 12 children

Ingredients for making 12 cupcakes (print downloadable version of recipe)
1 1/2 cups flour
3 tsp baking powder
1 egg
1 cup milk
1 tsp vanilla
2 Tbs oil
sugar
butter
smarties
Tools used:
One small bowl per child
One teaspoon per child
Silicone cupcake holders
Sieve
Two large bowls
Measuring cups and spoons
Method:
1. Sieve all of the flour and baking powder together into a bowl (flour mix).
2. Mix egg, milk, vanilla and oil in a bowl (milk mix).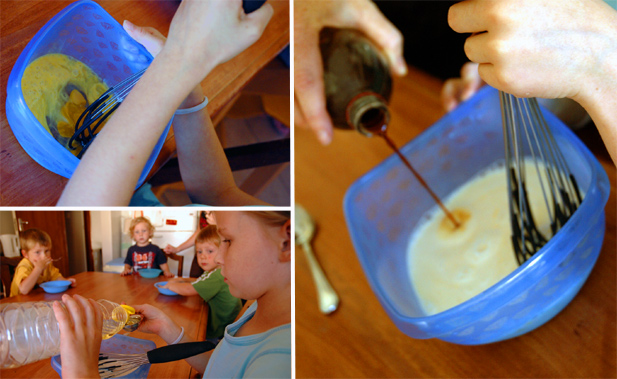 3. Spoon 2 tablespoons of flour mix into single bowls for each child.
4. Add 1 teaspoon of sugar to each.

5. Mix in 1/2 tsp of room temperature butter, squashing the butter with the back of a spoon until combined.

6. Add 2 tablespoons of the milk mix.

7. Scoop this mixture into a single cupcake cup (silicone or paper) and decorate. If you mix smarties into the batter, they cook inside the cupcakes and come out wonderfully chewy and melted. Try it. It's good.
8. Bake for 10 – 15 minutes, and enjoy with a (plastic) cup of early grey tea in the brave autumn sunshine.