Minichefs: homemade pasta
Ever tried making your own pasta? With just two key ingredients, flour and egg, fresh pasta that beats any store-bought is within your grasp. Little people like big responsibilities so we set our Minichefs to work with the
Imperia Pasta Machine
and a lot of messy, eggy fun followed. Right up our alley. Here's how to make homemade pasta with tomato sauce.
Equipment:
Saucepan
Pasta machine
Pot
Tongs
Sieve
Ingredients (serves 4):
For the tagliatelle:
200g flour + 1/2 cup for sprinkling
Pinch of salt
2 eggs
Basil pesto (optional)
For the tomato sauce:
8 tomatoes, chopped and deseeded – keep the seeds though
1 bay leaf
100g tomato paste
5ml sugar
Black pepper
Salt
Method:
1. Pour your flour and salt onto a countertop and make a well.
2. Crack your eggs into a bowl and gently whisk.
3. Pour eggs into the centre of the well.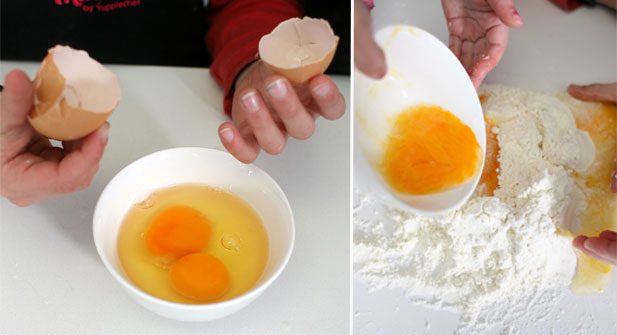 4. Slowly work the egg and flour together with your fingers – work from the centre outwards. Once all mixed, knead for about 10 minutes until the dough is smooth and no longer sticky. Some adult elbow grease may be needed. Place the dough in the fridge for a few minutes.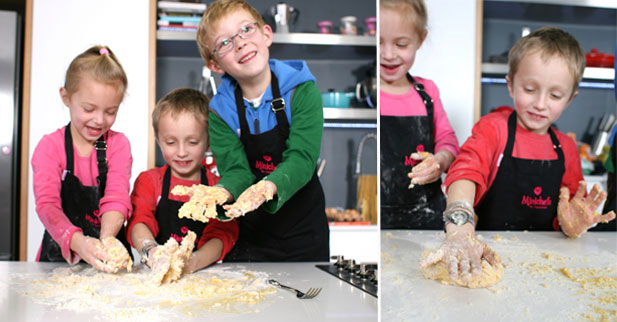 If you have a blender or food processor, you can skip the mess and arguably some of the fun by using these tools to mix your pasta ingredients.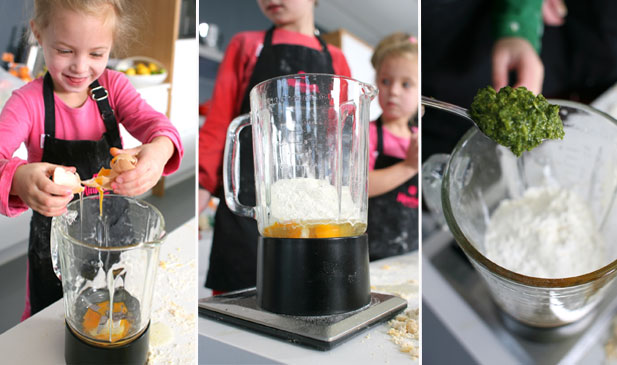 7. Dust the dough with more flour so that it's not sticky. Now take a chunk and crank it through the pasta machine. Start with the widest setting and, each time you put the dough through the machine, move the setting up a notch so your pasta is nice and thin. If the pasta gets too long, cut it in half. Keep flouring the pasta – if it is too sticky – it will break and stick to the machine.
8. Once you have reached your desired thickness, re-flour the pasta well and pass through the tagliatelle cutter. Make sure you have hands on the other side to catch the tagliatelle. Hang to dry slightly.
9. Meanwhile make the sauce: place the chopped tomatoes, tomato paste and sugar in a saucepan. Squeeze the seeds into the pan through a sieve. Cook until the tomato is soft. Season with salt and pepper. You can blend the tomato mixture if you don't want lumps.
10. Once your pasta is dry, place in boiling water for a few minutes.
11. Serve the pasta with the tomato sauce and enjoy.
And there you go. Little people can achieve big things.
If you and your kids enjoyed making this Minichef-friendly recipe, you might also want to give these recipes a try.