Minichefs: double chocolate cupcakes
Sticky hands, licked bowls and chocolaty delights: here's how to make double chocolate cupcakes.
Ingredients
Cupcakes:
55g softened butter
55g caster sugar
1 large egg
1 tsp vanilla extract
1 Tbsp milk
55g self raising flour
1 Tbsp cocoa powder
25g milk chocolate chips or small chunks
Chocolate frosting:
55g softened unsalted butter
1 Tbsp milk, cream or natural yoghurt
115g icing sugar
2 Tbsp cocoa powder
To decorate:
25g milk chocolate chips
Method
1. Set the oven to 190°C.
2. Place your six silicone cupcake cases on a baking tray.
3. Put the softened butter and caster sugar in the mixing bowl and beat together with the spatula until creamy.
4. Mix in the egg, vanilla and milk.
5. Sieve the flour and cocoa powder into the mixing bowl and beat until fluffy and soft.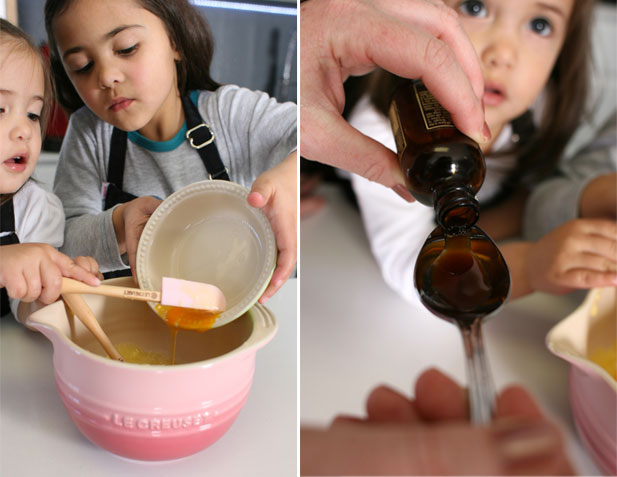 6. Finally stir in the chocolate chips.
7. Using the spatula and a spoon divide the chocolate mixture between six cupcake cases.
8. Place the tray in the pre-heated oven. Best ask the grown up in the room to help with this bit.
9. Cook for 13-15 minutes. Set a timer if you have one. The cakes will be done when the top is well risen and springs back when pressed. Allow to cool.
10. To make the frosting, place the softened butter and milk into the mixing bowl and beat together.
11. Sift the icing sugar and cocoa into the butter mixture, adding a little at a time and beat well with the spatula until all the icing sugar is mixed in.
12. Spread the chocolate frosting on top of the cakes using the spatula and decorate with the remaining chocolate chips.
With thanks to Karen Grandcourt for images.