Minichefs: cheesecake in a jar
Chasing butterflies and finding animal shapes in white puffs of cloud are all champion childhood memories instilled by the practice of picnics. Grab some
preserving jars
and put this heavenly blend of cream and crunch to the test. Adapted from the original
no bake cheesecake
 in a jar, making it will be a simple pleasure for little people.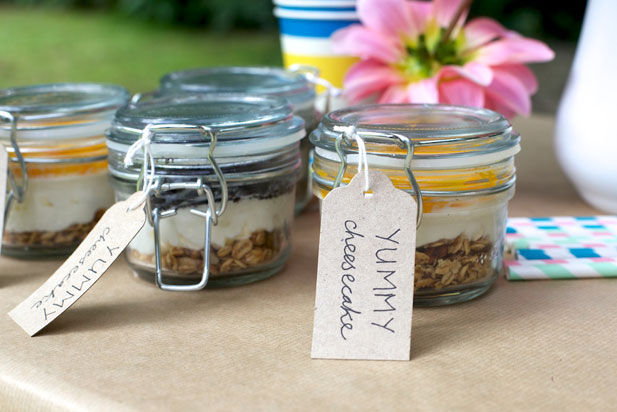 Ingredients (makes 6 x 125ml jars):
½ cup muesli (your favourite variety)
200g plain cream cheese
5 tbsp caster sugar
2 tbsp lemon juice
120ml fresh cream, whipped
2 mangoes
6 oreo cookies
Tools:
6 x 125 ml Kitchen Craft Glass Terrine Jars
Blender
Spatula
Mixing bowl
Measuring cups and spoons
Knife
Pestle and mortar
Method:
1. Fill the bottom of each jar with a layer of muesli to about 1cm thick.
2. Place the cream cheese, lemon juice and caster sugar in a mixing bowl and blend together.
3. Using a metal spoon, fold the whipped cream into the cheese mixture.
4. Spoon approximately two tablespoons of this creamy mixture into each jar on top of the existing muesli layer. Spread and smooth into an even layer.
5. Place in the fridge or freezer to set for half an hour.
6. Slice your mangoes into thin slices.
7. Crush your oreos – a mortar and pestle will do the trick.
8. Remove your cheesecakes from the fridge and choose which ones to top with crushed oreos or juicy mango slices.
Picnic recipes shouldn't take a day to whip up. After all, the magic in a picnic is the warm weather-seizing spontaneity.
The kids will be experts at churning out these scrumptious desserts in no time, ready to be taken on any adventure.