Minichefs: bunny chow at Foodiction
This weekend twenty four 
Minichefs
, aged between 6 and 11, stormed the state of the art cooking school,
Foodiction
, in Johannesburg and cooked up an almighty storm of bunny chow and
lemon pie
(watch our
Minichef Jo'burg adventure video
).
Bunny chow is a homegrown, South African meal and is traditionally a hollowed half bread loaf filled with curry. Various stories surround it's inception, one of which is that Indian sugar farm workers, finding little time to bake their traditional flat breads, resorted to Western loaf breads to pair with their curries and cleverly thought to use them as containers.
Whatever the story, we love bunny chow ('bunny' because you use your hands and 'chow', a slang word for food). Download print-friendly version of this recipe.
Tools used:
Knives
Saucepan
Chopping boards
Spatula
Ingredients (serves 6 as a main course or 8-10 kids):
2 tbsp vegetable oil
1 tbsp butter
1 cinnamon stick ('Don't eat this unless you like eating trees' – Chef Barry)
4 green cardamom pods, lightly crushed
1 medium onion, sliced
2-3 curry leaves
4 tsp mild curry powder
1 tsp ground turmeric
1 and 1/2 tsp grated ginger
1 and 1/2 tsp crushed garlic
2 large tomatoes, chopped OR 1 can of chopped tomatoes + 1/2 tsp sugar
1kg chicken, cubed (or you can use beef or lamb)
3-4 potatoes, peeled and cubed
2 tsp garam masala
Salt, to taste
Sugar, to taste
A hearty, farmhouse roll for each person
Fresh coriander leaves to garnish
Method:
1. Heat the oil and butter, add the cinnamon stick, cardamom pods, onion and curry leaves. Gently fry until the onion is golden brown in colour.
2. Add the curry powder, turmeric, ginger, garlic and tomato. Cook over medium heat, stirring occasionally.

3. Add the meat and cook for about 10 minutes.
4. Add the potatoes and about 1/4 cup of water. Lower the heat and simmer. Keep an eye on it to make sure that the bottom of the pot does not burn (add more water if needed).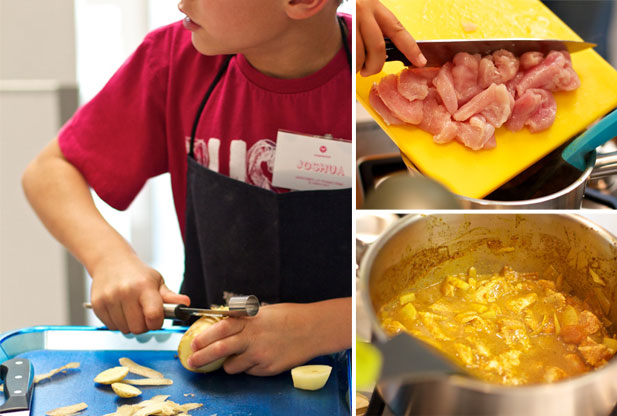 5. When the meat is cooked through and the potatoes are tender (approximately 30 minutes), add the garam masala. Test the seasoning and add salt or sugar if necessary.
6. Simmer for 10 minutes on a low heat.
7. Scoop out the centre of each of the rolls to form a bowl. Try to keep the bit you scooped out whole so that it can work as a lid.

8. Spoon the curry into the half loaves and serve, garnished with coriander leaves.
Our Minichefs ate these bunny chows with gusto, much to the envy of their parents.

If you try this recipe at home, send us your pictures and we'll be impressed.
And make sure you are signed-up to our newsletter for details of how you and your little people can get involved in future Minichef-inspired events.