Meze platter ideas, cheese straws and slow roasted tomatoes
Every now and then we like to go a little meze mad and these trusty go-to options are easy to whip up and seriously delicious. Keep these handy in your line-up of easy party snack ideas.
For a lovely, no-fuss meze platter we used some green olives, a tasty Chaloner tapenade, flavourful olive caviar from Mont Rouge and some Jean Brunet duck pâté. Don't forget the olive oil and balsamic vinegar for dunking freshly baked breads.
We paired all of these delicious items with slow roasted tomatoes and cheese straws but you could also just as easily go for cheese of your choice, flatbreads or baguette.
Ingredients:
For the slow roasted tomatoes
350g tomatoes, sliced in half
3 Tbsp olive oil
2 Tbsp balsamic vinegar
Salt and pepper
Baguette and Philadelphia cheese, to serve
For the cheese straws
1 baguette, sliced into 3 lengthways, then long strips
½ tub crème fraîche
1 tsp mustard powder
1 tsp smoked paprika
200g Gruyère or cheddar cheese
Salt and pepper
Method:
1. Preheat the oven to 150°C.
2. Place the tomatoes on a baking tray and in the oven with the olive oil, balsamic vinegar, salt and pepper. Roast slowly until they halve in size and pack a punch of flavour.
3. To make the cheese straws, up the oven ante to 180°C.
4. Mix together the crème fraîche, mustard powder, smoked paprika and some salt and pepper. We used this sweet smoked paprika from La Dalia.
5. Grate the cheese on the fine part of the grater.
6. Place the baguette bread sticks you sliced previously on a baking tray lined with baking paper. Spread the crème fraîche mixture over each bread stick, then top with grated cheese.
7. Bake in the oven for 12–15 minutes until golden brown and crisped through.
Serve the slow roasted tomatoes with fresh baguettes and Philadelphia cheese along with these delicious homemade cheese sticks. Don't forget the ice-cold beer and wine.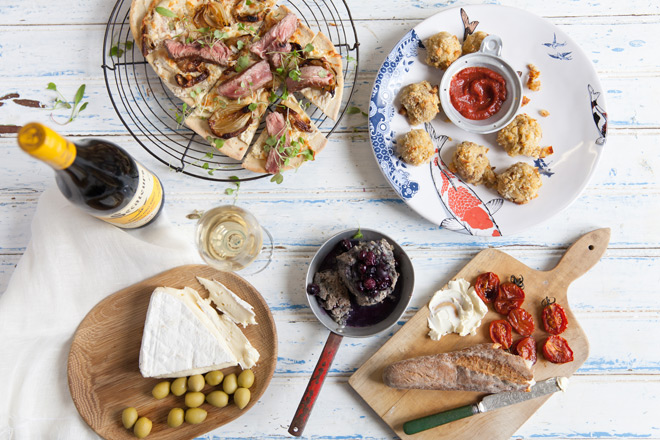 Meze platters are great. They have you eating with your hands, the vibe is always relaxed and you can improvise and mix and match whatever ingredients you're feeling at the time.
With thanks to Jules Mercer for her beautiful recipes and styling.