Letterpress cookies for Valentine's day
Are you on the hunt for crackerjack Valentine's day ideas? Maybe the 
Letterpress Cookie Set
can help win the affections of your lovebird. Using the set, our very own Silwood certified grad student, Robyn, infused the Test Kitchen here at Yuppiechef HQ with a touch of whimsy and made these edible sweethearts. Grand, don't you think?
The Letterpress Cookie Set includes three cutters of varying shapes, a sliding stamp insert and a bag filled with wordy bits and bobs. Stamp, customise and bake your way through any eventful occasion with a touch of humour and sweet sentiment (like we did for Christmas).
Robyn, being the creative patisserie gem that she is, added a new dimension to this chameleon of a cookie cutter. Well butter our bread and call us a biscuit. Remember the neat Nicoletta Ready-to-Roll Fondant Icing and edible decorations? Turns out they're not just for covering cakes and making pretty cake pops. She says they also rather easy to stamp into. Nice one.
Whip up a batch (here's a winning recipe), adorn them with your quirky affections and hand them over, one by one or in a box of many. And just like that, you can liberate your love. Actually.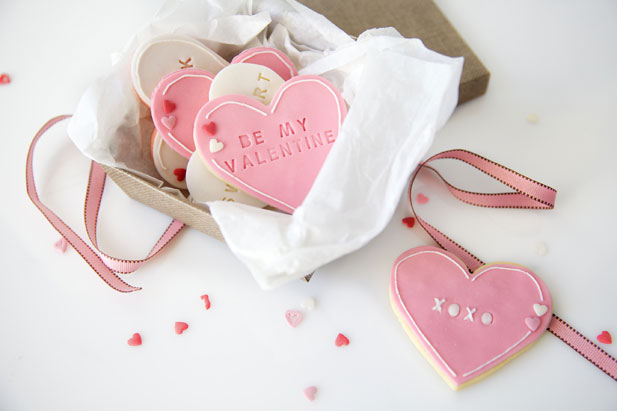 Happy Valentine's, folks.
Check out the Letterpress Cookie Set on Yuppiechef.com
For tips, tricks and a great cookie recipe head this way.
Thanks to Robyn, one of our star grads, for making these cute Valentine's biscuits.