Kamini Pather's beer ice cream with seed brittle
Can't decide between a nice cold brew or icy soft serve to keep you cool this summer? Well, fret not, we bring you the best of both worlds with this recipe for beer ice cream, made in our very own Test Kitchen by SA MasterChef winner, Kamini Pather.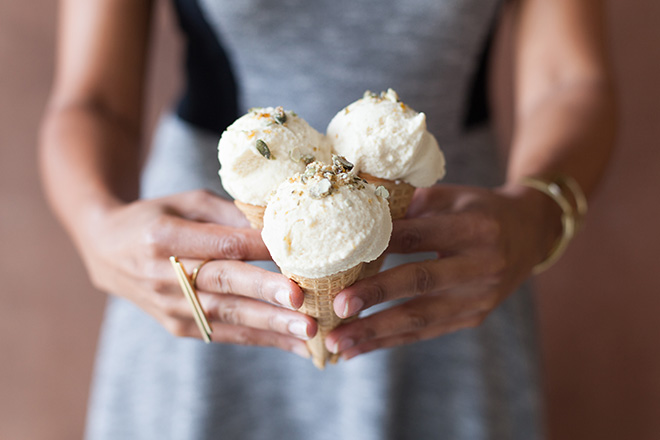 Ingredients (serves 6)
For the beer ice cream:
500ml BREWERS & UNION Handwerk All-Day IPA
250ml single cream
750ml low fat milk
1 vanilla pod, scraped through
½ cup sugar
3 egg yolks
For the pumpkin seed brittle:
Handful pumpkin seeds
1 Tbsp water
½ cup sugar
Method
1. Heat the IPA in a small pot for about 15 minutes, until halved in quantity. Allow to cool.
2. Next heat the cream and milk. Stir occasionally so that it doesn't catch at the base of the pan and burn. Add the vanilla pod scrapings and continue to stir through.
3. In a bowl, whisk together the sugar and egg yolks until pale in colour.
4. Temper the yolk and sugar mixture by adding a quarter of the hot milk to the yolks and mixing before adding it back to the pan. Allow the mixture to bubble over a medium heat for 20 minutes to thicken.
5. Test if the liquid is ready by doing the 'back of the spoon' test – if the mixture coats the back of a wooden spoon and you're able to draw a line thought it that stays on the spoon, then it is ready.
6. Once ready, add the beer reduction and mix through gently. Pour the mixture into an ice cream maker and churn according to the manufacturer's instructions. We used the Magimix Le Glacier Turbine Ice Cream Maker.
7. For the brittle, add the sugar and water to a pan. Allow to melt and form a caramelised sugar syrup. Then add the seeds to the syrup and mix it up so everything is coated.
8. Then spread the mixture onto on a non-stick baking tray to cool. We used a Silpat mat to make sure nothing but the brittle sticks.
9. Once cooled, break apart into chunks and crush in a pestle and mortar before sprinkling over your freshly churned ice cream.
If you don't have an ice cream machine, take a peek at how to make ice cream without an ice cream maker.
And now go ahead and taste the bitter sweet perfection. This frozen pint is sure to become a permanent fixture in your freezer.
Special thanks to Kamini Pather for her lovely recipes. Stay in touch with Kamini on Twitter or Instagram.