Justin Bonello talks to us
Where does your food come from?
A great question, that we were enthralled to hear is the driving force behind Justin Bonello's latest mission. We popped in to his studio this week for a chat about this new book.
Justin has been doing the cooking thing all his life, with a passion beginning when he was a very little guy making pancakes with this inspirational Dutch grandmother. His big break came when BBC lifestyle snapped us his concept for a rough and tough South African roadtrip cooking series back in 2005, and you know what they say about the rest. Five years on he is in the process of filming the sixth series in his popular TV cooking show and his third cook book hit the shelves this month. A busy bee, is Justin.
A bit about the new book, Cooked: Out of the Frying pan – after years of light-hearted fun cooking it up in beach and bush surroundings, Justin was yearning for a fresh challenge and to take his cooking experience to another level…
So, stepping squarely out of his comfort zone he embarked on a baptism-of-flour journey into the world of professional kitchens and paying customers and cooked his way through an array of haute cuisine under the careful watch of thirteen professional chefs.
The book is beautifully shot (sneak peak), thoughtfully written and includes anecdotes from Justin and tips&tricks from the thirteen pro chefs on making a host of dishes with rich cultural heritage – step by step porchetta, truffle sauce, dukkah, octopus carpaccio, fish frikkadels, prickly pear sorbet… We like, and it's available on Yuppiechef.
While cooking up a fancy storm with the likes of Michael Broughton, Dalls Orr and Jackie Cameron Justin developed a new interest in quality ingredients and their origins, which inspired the fifth season of his TV series – Cooked: Living Free. In this thirteen episode series currently showing on BBC Lifestyle channel on Fridays,  Justin and team embark on an 8000 km journey to investigate what really goes down in the South African farming world – and where our food really comes from. Nice.
We are fans of self-portraits and a bit of merriment, and Justin obliged with this fetching sketch: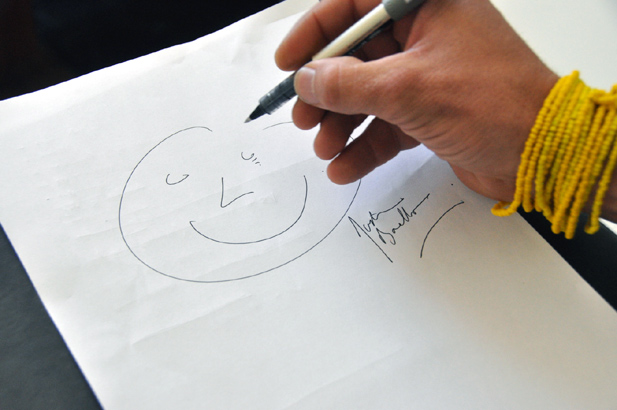 The inclusion of some little lines beside his peepers is clearly because he is getting older and wiser. Some of his favourite favourites:
Restaurants: Magic Aroma, Food Barn and Terroir
Kitchen tool: a spoon to taste things, and his Wusthof knives
Organic markets: Tokai, and Kalk or Hout Bay for fresh fish (he also likes to harvest his own fresh seafood).
Finally, our scoopy news is that Justin's documentarytjie The Great Food Hoodwink is going live today, which expresses his concerns about ethical and sustainable consuming and producing and includes sneaky footage of him challenging fastfood owners about their ingredient sources. Go Justin. Look out for it on their Facebook fan page (up later today).
A big thank you to Justin for taking time out to chat, and to Penguin who have given us 5 signed copies of his new cook book to give away – find out how to win yours.
Onwards and upwards.