Josh Thirion, SA's youngest author, comes to visit
Can you imagine being published by the age of 9? Josh Thirion can. Cook with Josh, his creative, colourful and fun-loving children's recipe guide, is now part of our cook book range. Josh popped in for a visit recently and showed our minichefs just how easy-peasy date balls are to make at home.
According to Josh, it was watching MasterChef that got him into cooking in a big way. Young Josh is not only a young foodie, he's an artist too. He entered his very first recipe guide, consisting of hand drawn comic strips with step-by-step guides, into the Canal Walk Magic Market day. And so began his journey from passionate kid to accredited author. Josh Thirion, we salute you.
His personal favourite recipe? Cottage pie pots. Best kitchen tool? A knife, a sharp one. And some advice for young, aspiring chefs? Focus and practice. That's some mature stuff, we think. Well said, Josh.
Recipe for date balls
Ingredients:
125g butter 1/4
(60ml) cup sugar
1 egg
250g pitted dates, chopped into small pieces
20 Marie biscuits broken into small pieces
100ml fine, desiccated coconut
1. Melt the butter in a sauce pan over low heat.
2. Add the dates and stir until soft. Remove from the heat and place in a separate mixing bowl.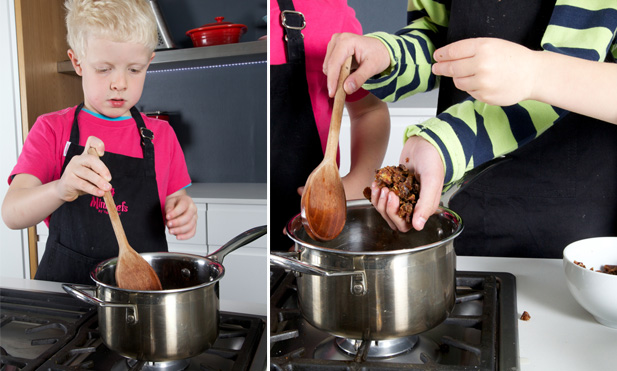 3. Whisk the egg and sugar in a mixing bowl. Add to the dates and stir until combined. Remove from the heat and place the pan on a wooden chopping board.
Josh's inside tip: always add the the hot stuff to your egg mixture not the egg directly to your hot mixture on the stove – otherwise you will get scrambled eggs, he says.
4. Stir in the Marie biscuits and allow the mixture to cool down. Josh's inside tip: wait for the Marie biscuits to absorb all the buttery mixture before rolling the date balls.
5. Put the coconut in a flat side dish. Pinch off bits of the date mixture and roll into small balls. Roll the balls in the coconut and leave on the chopping board or a large plate until completely cooled and firm.
Serve as an energising midday snack.
Makes 32-35.
A big thanks to Josh Thirion for coming to visit us and sharing his kid-friendly date balls recipe with us.