The culinary inspiration and illustrations of Maria Magdalena Atelier
The gift of creativity has the power to overwhelm its receiver, for anything created from deep within the soul, contains a kind of magic you simply can't capture in everyday things. But while not everybody may have creative inclinations, the unmistakable joy of perpetuating and appreciating the dedication to creativity is something we all revel in. So, when Maria Magdalena's hand drawn gifts evolved into a career, gifting became just a little more wonderful for all of us.
The talented Maria Magdalena has been establishing a name for herself within the art scene, thanks to her designs and creative ideas. It was an inevitable career for the artist, one however she could never have imagined before it came to life.  Maria used to draw cards for her loved ones and gift these with flowers, and it was through this gesture that she received the motivation to begin selling her drawings as fine art prints.  What was meant to be a fun side project while working as a packaging designer for international retailers like MasterChef, is now the Maria Magdalena Atelier – and online shop filled with her wonderful illustrations.
Within her first month, Maria's work was featured on blogs and she was quickly selected as a Design Indaba Emerging Creative, after which her designs also featured in exhibitions from Cape Town to New York.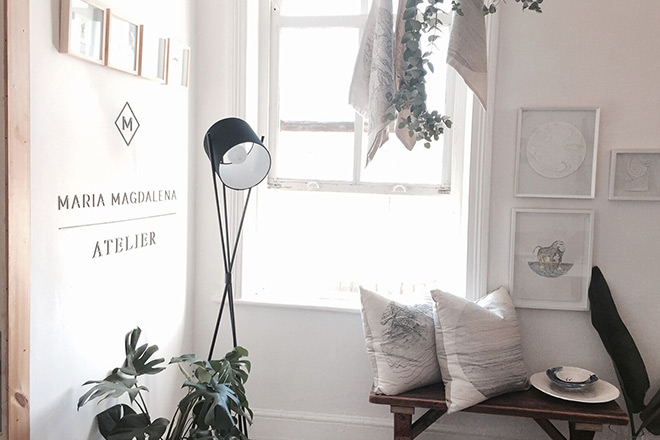 Now based in the artsy hub of Woodstock, Maria Magdalena is grateful for her success. She tells us she has always had a love of drawing and fine art and has been pursuing it since her days of studying graphic design and fine art. With no trouble seeking inspiration, Maria admits to finding it mostly in nature, music, poetry, and people, "I adore transforming small moments of my ordinary life into something extraordinary through intricate lines of ink".
Once an idea begins taking shape in her mind, it is the delicate play with either pencil, ink or paintbrush that gradually evolves into her design. The beautiful irony to her work? Maria seeks simplicity through a complex series of intricately hand drawn lines. Through photography she captures the process. Once happy with the range, the originals are framed and a styled look book is shot. Magdalena is proud of the fact that her work evokes different emotions in people, "Having a glimpse into the joy that my artwork brings to people, when it hangs in their homes is one of my proudest moments".
As an avid food lover, as well as an artist, Magdalena has created pieces of art that illustrate the beautiful relationship between food, art and people.  Each fine art print comes with a recipe to prepare and share with loved ones. Everything Maria puts together is handcrafted, from the drawing, printing, packaging, framing and eventually the gift-wrapping, seeing it once again as a gift from herself to her client, "Every single day that I am able to draw for a living is a blessing. I have and will continue to work incredibly hard for it".
Find inspiration in the artwork of Maria Magdalena in your own home through one of the lovely recipe illustrations created specifically for the Yuppiechef Birthday.
Photography courtesy of Adam Mays.