Inspiration for February
The shortest month of the year is here and 2013 is steamrolling through it. Here's a little inspiration that we hope will get good people eating great food together, preferably in the sunshine. Grab it while you can, folks.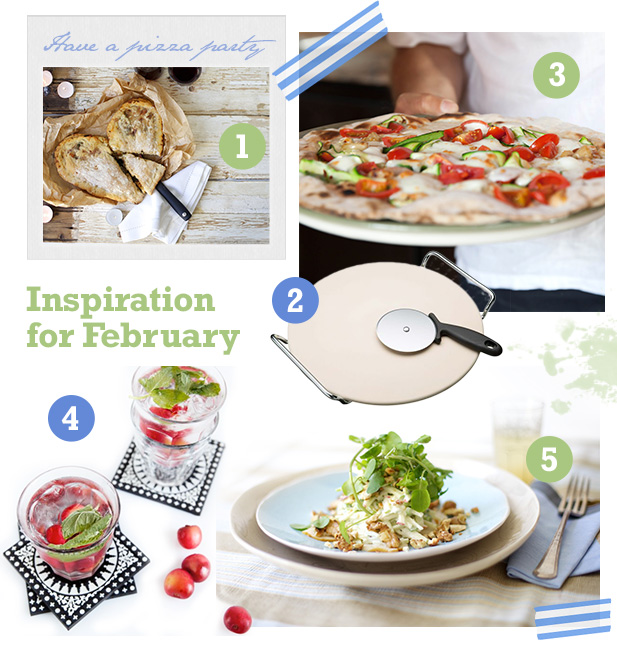 1. Is love in the air?
Sometimes the quickest way to a person's heart is through their stomach. Keen to try your hand at a heart-shaped calzone? Here's how to do it.
2. Oh pizza stone, oh pizza stone
Don't have a wood-fired pizza oven in your backyard? There's no need to panic. With a pizza stone set made from a high impact ceramic that absorbs moisture, crispy bases and evenly cooked pizza are within your kitchen's grasp. Pizza party, anyone?
3. Tips from an Italian pizza-making master
If you're as mad about pizza as we are, you may well like to check out Massimo's five golden rules for an epic slice. Massimo has pizza in his blood and makes some of the most awesome pizzas Cape Town has to offer. Oh yes, he does.
4. Extra touches for your table
At Yuppiechef HQ, we've all got one of these Images d'Orient coasters on our desks. True story. Add a little extra to your table and banish any watermark worries.
5. A Waldorf salad with a difference
Braais, picnics and dining al fresco are all firmly on the agenda this month. Consider taking this Waldorf salad with caramelised nuts along on your next outdoor adventure. It's really rather tasty.
6. Bottlegreen refreshment
We've just welcomed Bottlegreen cordials to our Yuppiechef shelves. If you can't get to a mountain pool for refreshment, a glass full of ice and elderflower cordial is a good bet. Did we mention that these cordials aren't just for the drinking? You can also make this summer berry cheesecake.
7. Magic with a mandoline
So often we find ourselves making the same old things in the same old way. A winning tool like a mandoline can change all that. Here are 10 ideas to inspire mandoline escapades. Chop, chop.
8. Honeycomb ice cream and fruit salad
Lucky us to live in a place with such an array of fruit on our doorstep. Chop them up into a fruit salad, top with a dollop of ice cream and Crunchies and you've got a dessert that you'll want to see again and again.
9.  Time to make jam
If you've got a tree that's bearing fruit in abundance, now's the time to preserve it for that rainy day that involves cheese. Keep your eyes peeled on Spatula.co.za for jam making tips from Tina Bester and an insight into her book, Jampacked.
10. Preserve pots from Le Creuset
If you need more inspiration to get pickling, perserving and jam making, these Le Creuset stoneware jars could be it. And as for recipes – how about making red grape and rosemary jelly or pickled onions?
11. The greatness of Guzzini
For outdoor entertaining with no risk of breakages, it's worth having a peek at the Guzzini range. Available in all sorts of fun colours, these are up there with some of the best outdoor dining tools in the world. Buon appetito.
12. Mango, mango and more mango
What's a South African road trip without some dried mango? Make the most of this sunny fruit by drying it yourself.
Raring to go? Keep us in the loop on your kitchen adventures.